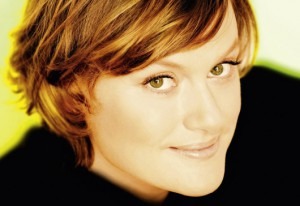 VIENNA, Austria — Vesselina Kasarova's repertoire ranges from Donizetti to Wagner. Critics rave about her voice, and her character depictions are the gold standard for young singers aspiring to opera stardom.

Asked recently if she would again become a singer from her present perspective at the top, she shrugged.
"Maybe not," she said. "Maybe I would have become an actress."
The opera stage would be a poorer place without Kasarova — but with the path to success rocky and the fight to stay the best exhausting, the famed mezzo-soprano is ambivalent about whether the pros of the profession outweigh the cons.
Such doubts might appear puzzling to opera goers who have experienced the versatile 46-year old Bulgarian mezzo-soprano on stage.
Her singing appears effortless, burnished and warm in the lower registers and as clearly textured and free-flowing as clover honey up top — a voice New York Times critic Anthony Tommasini described in 1999 as "unforgettable and deeply affecting." Her dramatic skills are superb, letting her master even pathos-ridden roles without being maudlin. She owns the stage — and seems to do so naturally.
Trained as a concert pianist before she opted to study voice, Kasarova, who now lives in Zurich, Switzerland, gained attention in the late 1990s, first with the bel canto works of Mozart, Rossini, Bellini and Donizetti.
She debuted internationally at the 1991 Salzburg Festival in Austria as Annio in Mozart's "La Clemenza di Tito." Since then, she has appeared on many of the world's major opera stages and expanded her repertoire to the point where she is equally at home with the works of Wagner and Richard Strauss, French opera, lieder and oratorios both live and in the recording studio.
But Kasarova says the ease she projects is hard work. The road to success, she says, is paved with sacrifices that can be as minor as doing without ice cubes in her drink to save her voice and as emotionally tasking as missing out on birthdays and other family occasions while on the road.
"Sometimes when I think of all that I do for my voice, I think I don't want to go on," she said, during a stop in Vienna, where she will perform works by Mozart, Donizetti, Tchaikovsky and Verdi with Bulgarian soprano Krassimira Stoyanova at the Austrian capital's gilt Musikverein concert hall April 30.
She says that after 10 years on stage, most singers develop common cold-like symptoms year-round, "because we breathe in dirt, dust and odors" while performing. Ailments affecting the breathing passages occur as frequently for singers as joint problems for professional tennis players, Kasarova explains.
And like athletes in a fiercely competitive environment, some singers turn to drugs to perform instead of opting for a rest. But the gain is only short term.
Overuse of steroids in the form of cortisone is common, say singers and doctors treating them. The treatment masks problems with inflamed vocal cords but the problem worsens to the point where operations may become necessary. That, in turn can change a voice — and even ruin it.
Tenor Endrik Wottrich first outed the pressure and resulting abuses behind the opera curtain in 2007 after harsh criticism for canceling a performance of the Wagner festival at Bayreuth, Germany, because of a cold.
"We are faced with the choice of performing and being attacked because we sing one false note, or being attacked because we are taking care of ourselves," he told the German daily Frankfurter Allgemeine Zeitung.
To deal with their tensions, "soloists are taking beta blockers to control their angst, some tenors take cortisone to push their voice high, and alcohol is everywhere," he said.
"The real pressure is no longer good old stage fright but comes from a new dimension that has penetrated opera — it now lives from glamor, and normal human mistakes are a disruption in such an environment."
Kasarova describes cortisone use as "an infernal circle" that sometimes becomes an addiction. Others, she says, abuse sleeping pills to try to escape stresses of performing that have grown in the past decades as stages get bigger, orchestras louder and opera seasons longer than ever.
Singers now get paid by the performance, meaning no money for no shows. The best are now in demand all year round, leading to exhausting globe-trotting. And even those who avoid long-distance travel often have little time between the late spring end of the subscription season, the start of rehearsals for summer festivals and tours promoting their own recordings.
Adding to the pressure in this telegenic age, opera star allure now depends as much on looks as voice. To meet the challenge, American soprano Deborah Voigt underwent gastric bypass surgery, reportedly losing more than 100 pounds after being fired from a 2004 London production of "Ariadne auf Naxos" because she couldn't fit into the costume.
Back in the 1960s, when life was slower on and off stage, singers "focused on a career that lasted for years," says Kasarova. "Today, everything has to happen quickly — if you don't play the game you are soon replaced."
Still, it is possible to last and grow. Kasarova, who has been recognized as world class for more than two decades, says her inner voice has helped her avoid traps that she says some colleagues have fallen into by allowing her to recognize that every voice — and singer — has his or her limitations.
But she, too, has suffered from her demanding profession.
Her speaking voice is a light soprano, giving no hint of the power and color it is capable of in singing mode. But there is a sudden catch in it as she speaks of past family events — "my son's first communion, birthdays" — missed because of a gig somewhere else.
"I'll never forgive myself for that — never," Kasarova declares.
Her son, Yves Lucien Kaufmann, is now 13, giving Kasarova somewhat more time to focus on performing than when he was an infant. Back, then, she says, trying to be both a loving mother and a diva was a Herculean effort.
"He flew with me, he was only three months old, and I was in New York," she recollects. "I hardly slept all night, and then rehearsal the next day from 10 a.m till 1 p.m and then from 5 p.m. until 8 p.m. Where did I get the energy?"
Then she catches herself.
Yes, life is hard. But, she says, it can also be intensely rewarding.
"It is impossible for a normal human being to experience what I sometimes have experienced on stage," she says of the highs generated by the exuberance of an audience that is on its feet and cheering wildly moments after the curtain falls on a perfect performance.
"I receive intense energy from communicating with the audience," she says. "The audience takes a lot from me but I also take a lot from them.
That's opera, she says — "taking and giving."
George Jahn (Musical America) / March 30, 2012
Weblink : http://www.musicalamerica.com/
Photo credit : http://operafresh.blogspot.com/