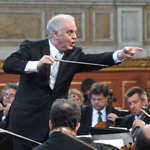 The Observer's classical music critic looks back on a good year for Mahler, opera at the movies and legends of the past on YouTube.


Chopin, Schumann and Mahler were the headline trio of 2010. Only one was elevated from mere anniversary composer to full-blown trend. You couldn't move for Mahler symphony cycles. Man on bus with cowbells and hammer? Mahler's sixth again. Urgently seeking a spare tenor horn? That'll be the seventh. The BBC Proms season, in a box-office record-breaking year, launched with the "Symphony of a Thousand"; Manchester's BBC Philharmonic and Hallé orchestras united in fine harmony for their Mahler series; the City of Birmingham Symphony Orchestra, the LPO, LSO and Royal Liverpool Philharmonic, not forgetting amateur orchestras up and down the country, all joined in.
But it's not over: 2010 was the birthday year, 2011 marks the century since Mahler's death so the junket continues. He even featured in a culture select committee when an MP drily suggested that he "shouldn't have written works that require so many musicians". In the icy climate of funding cuts, not everyone saw the joke. Why Mahler? asked Norman Lebrecht in his severally-reprinted book (Faber), which sparked lively fury and debate – rare for a book on music.
New composers emerged, but it wasn't a vintage year for contemporary music, unless I missed the best. A month abroad meant I couldn't catch Alexander Raskatov's A Dog's Heart at ENO, celebrated above all for Simon McBurney and Complicite's dazzlingly inventive production. Nominate yours. The Prince Consort's premiere of Stephen Hough's Herbstlieder was intimate and memorable. Brett Dean's opera Bliss had an exciting UK premiere in Edinburgh. Groups such as BCMG, Aurora, London Sinfonietta and Britten Sinfonia continued with bold programming. The MP3 habit of "shuffle" or "alphabetical" listening has increased the trend for scrambling genres, as Jan Garbarek and the Hilliards – back in 2010 after a long gap with a new CD, Officium Novum – first did years ago. The Sixteen's Monteverdi and jazz at June's Spitalfields festival was among stylish examples.
The Metropolitan Opera New York's Live in HD and the Berlin Philharmonic's Digital Concert Hall led the way in bringing top opera and concerts to all. The dazzling resources of YouTube have invigorated classical music habits. Above all it's a haven for reuniting with legends of the past. One click and you can hear Heifetz tuning up to play Bach's Chaconne. And we can instantly – virtually – restore those great musicians who died in 2010, a list headed by Dame Joan Sutherland, Sir Charles Mackerras and LSO trumpeter Maurice Murphy. An elegiac filmed version of Henryk Górecki's Symphony No 3, "Sorrowful Songs", becomes the composer's own requiem. Find a quiet corner at Christmas and watch the late Philip Langridge in his final role as the drag-Witch in Hänsel und Gretel last year: so witty that despite the anguish you'll have to laugh. Then head for your soundproofed listening room, sharpen your ears and join the great antidote-to-X-Factor campaign, Cage Against the Machine. Turn on your new recording of John Cage's 4'33" – will it be Number 1? – to full blast. The rest is silence.
TOP 10
Berlin Philharmonic/Barenboim
Sheldonian, Oxford
Takács Quartet Beethoven cycle
QEH, London
St Matthew Passion, CBSO/Rattle
Symphony Hall, Birmingham
Die Meistersinger von Nürnberg, WNO
Wales Millennium Centre, Cardiff
Billy Budd
Glyndebourne
Total Immersion: Henze & Rihm
Barbican, London
Sibelius series, LPO/Vänskä
Royal Festival Hall, London
Elegy for Young Lovers/ENO
Young Vic, London
Mahler in Manchester season: Hallé & BBC Philharmonic
Bridgewater Hall, Manchester
Satyagraha/ENO
Coliseum, London
PLASTER OF PARIS AWARD
Joyce DiDonato's break-a-leg Barber of Seville at the Royal Opera House, now immortalised on DVD
TWIN TURKEYS
Pearl Fishers & Idomeneo/ENO (but the lighting was fabulous in both)


Fiona Maddocks | December 12, 2010


Weblink: http://www.guardian.co.uk/