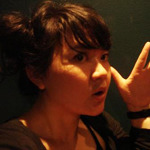 SAN FRANCISCO — Talking to Du Yun, one gets the sense of many careers proceeding simultaneously. Orchestral music, opera, pop, performance works – all are facets of the musical life of the Shanghai-born, New York-based composer.


The music world is taking note on multiple fronts. Recent commissions include "Mantichora" for string orchestra, which received its premiere by the Berkeley Symphony under Joana Carneiro in January 2011. The San Francisco Contemporary Music Players played her "Vicissitudes No. 1" in March (2011); in September, the International Contemporary Ensemble (of which she is a founding member) will give the world premiere of "An Angel's Bones" at Philadelphia 's Mann Center.
A winner of the Detroit Symphony's Elaine Lebenbom Memorial Award for female composers, Du Yun cites influences ranging from Elliott Carter to Kurt Weill, from Björk to Xenakis. She's just as likely to find inspiration in Peruvian and Egyptian folk songs. She believes there's simply no reason to confine herself to the single category of "contemporary classical" music.
"I'm very much an intuitive writer," she remarked when we met in the Bay Area following a rehearsal for the Berkeley Symphony premiere. "I'm always interested in blurring the boundaries between mediums."
Indeed, her music reveals an original voice – one that has been described as "electrifying" by the New York Times and "impeccably powerful" by Le Devoir of Montreal. "Mantichora," named for the half-human, half-lion monster of mythology, trades in insinuating harmonies and granite blocks of sound broken by sudden jagged upheavals. The Berkeley premiere was gripping; the Financial Times of London said "the writing bespeaks great confidence while the trajectory does, indeed, suggest a monster unleashed and subdued."
"My music tends to sound that way – very energetic, very visceral," Du Yun said. "But as a composer I feel that I write out of this boundless grief. It's not personal. In Asian culture, we do believe that memory sometimes outlasts existence. I started composing very young, and I've always felt this kind of urgency."
Du Yun might be called an accidental composer. She began piano studies at age four and enrolled in the Shanghai Conservatory at six. The work was grueling, she recalls – eight hours of study each day – and, like many prodigies, she seemed destined for a career as a concert pianist.
Oddly, it was an affliction that sent her into composing. "I had asthma growing up, so my heartbeat was always fast," she explains. "It's a fun story to tell now, but it was not a fun story growing up. I was a top student, playing Liszt and Chopin etudes. But I would start playing at one tempo and end up with a completely different tempo. I couldn't control it; my heart just beat faster. Then I would start to improvise. Finally my piano teacher said 'Maybe you should take up composition.'"
By the late 80s, Du Yun had come to New York to continue her studies, earning degrees in composition from Oberlin Conservatory and Harvard University. Her principal composition teachers were Bernard Rands, Joshua Fineberg and Mario Davidovsky. In recent years she has been the recipient of awards, fellowships and commissions including those from the Fromm Foundation, Meet the Composer, American Music Center and the Shanghai New Music Foundation. She was recently selected by Hilary Hahn to write a piece for "In 27 Pieces: The Hilary Hahn Encores," a commissioning project that will produce new works for violin and piano by 26 composers.
In 2006, she joined the composition faculty at the State University of New York-Purchase. Her students, she notes, are quite different than she was. "They have this really laissez-faire attitude," she says. "Which I think is great, actually. In my generation, we had so many people and so few schools. There was no backup option – you just went forward and never took things lightly."
If her composing interests have been unconventional, she says her mentors have always been supportive. "No one objected," she says. "They always said 'Oh, she has her own thing.' I think it's about being genuine. I've never wanted to water it down." In addition to a new album of original pop songs, she's also writing for art exhibitions and experimental theater, and performing the amplified/processed Zheng (a 21-string Chinese zither.)
Inspiration, she notes, has always come from unlikely sources. She recalls a visit to Egypt a few years back; standing on a Cairo rooftop, she heard the call to prayer. "All of a sudden I heard it, from every corner of the city," she says. "It was beautiful. It's funny – our life now is so media-saturated. You can never tell what is real and what is not real. I did skydiving once and when I was in free-fall I thought 'this feels like Disney world!' But in that moment on the roof, it was so real – everyday life, infused with spirituality. That's what moved me."
The experience has become a guiding principle in her composing life. "As an artist, I have to be moved first. Then I can have the capability to move someone else. I never try to use my music to be cool or use new media for its own sake. I don't think that way. It just has to be good."
It's a principle she intends to adhere to, regardless of musical form. "If I did one thing only, I don't think my music would be this lively," she says. "Doing the same thing over and over is a dead end. But if you push back a little bit – this is a very Zen attitude, actually – you see the whole landscape. For me it's that whole scape that I want to see."


Georgia Rowe | May 2, 2011


Weblink: http://www.musicalamerica.com/
Photo credit: http://www.sequenza21.com/