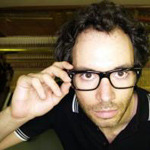 Pianist James Rhodes's decision to use an iPad instead of sheet music sets various alarm bells ringing.


It had to happen. As the press release has it, "The first classical performance using an iPad in place of traditional paper music" – that's sheet music, to you and me – happened on Wednesday night. Venus went into eclipse with Saturn, Orion traversed Sagittarius. Almost. Pianist James Rhodes did play Chopin's E minor Prelude off of his iPad at the Parabola arts centre, a concert that was part of the Cheltenham festival.
A couple of things ring alarm bells (you can watch the performance here and make your own mind up). First is that Rhodes didn't know the E minor Prelude off by heart anyway (a staple of the grade 5 repertory, or at least it was when I learned it, and it would only take a professional pianist about half an hour to get under his or her fingers). Second, there's a curious moment just after the climax when Rhodes makes a slip with his right hand, and then touches the iPad's screen. To mark a difficult place to remember to practise next time? To turn the page? Having told the audience that he has about 12,000 scores loaded up on his Jobs-mobile, he says all you have to do to turn a page is tap it – but every edition of the E minor Prelude I've ever seen has the piece on one page. Curious. In any case, Rhodes plays the Prelude decorously, to rapturous applause.
Were you there? What was the remainder of this iRecital like? Oh, and as far as classical music techno-firsts go: violinist Tasmin Little would have something to say about that. Back in 2003, she played Ligeti's Violin Concerto with Simon Rattle and the Berlin Philharmonic at the Proms, using a computer score and turning the pages with her feet. And there ain't no app for that. Yet.


Tom Service | July 16, 2010
Weblink: http://www.guardian.co.uk/
Photo credit: http://www.independent.co.uk/