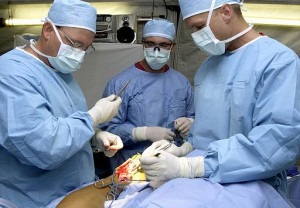 If you are headed for the operating room, you'd better hope your surgeon is a music lover. Research from the University of Texas Medical Branch (UTMB) claims that surgeons perform better when listening to their favorite music.

UTMB Assistant Professor of Surgery Dr Andrew Zhang, author of the research paper, said: "Our study confirmed that listening to the surgeon's preferred music improves efficiency and quality of wound closure."
The type of music seems not to matter–anything from metro rock through dance and pop to classical will help with the wielding of scalpels. The research project found that if surgeons were listening to their own choice of music, the procedure was carried out up to 10 per cent quicker. Full story.
Anthony Brown (MusicalAmerica.com) / August 4, 2015

Weblink : http://www.musicalamerica.com/
Photo credit : http://www.musicalamerica.com/