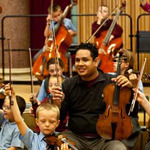 Some of Britain's poorest children are embracing orchestral music – inspired by El Sistema, the movement in Venezuela that has sparked a revolution in learning and life.


Through the leaden rain of a battleship-grey morning in one of the poorest neighbourhoods in Britain drifts a flurry of music by Antonio Vivaldi. It's played not through hi-fi speakers or by a practising musician, but a group of children from Faith primary school, sitting on little chairs in the great Victorian space of what was the church of St Mary of the Angels in West Everton – deconsecrated and nowadays known as the Friary.
One of the children playing is Christy, who has left Faith primary but carried on with her violin as one of the West Everton Superstrings Orchestra, for slightly older pupils. "I started, and it was amazing," she says in broad scouse. "I'd never heard a violin and it wasn't like any feeling I knew – it made you want to play and dance at the same time, but you can't do that 'cause you have to concentrate on playing. It's grand, really grand… If I wasn't doing this, I'd be stopping home, sitting on my own." Only for a short time did "my mates think it was different or weird to do this. Now, they think it's cool; since this started, it's dead cool to play a violin in West Everton."
The music that Christy – the daughter of a taxi driver and keen supporter of Everton FC – has been practising is "Autumn" from The Four Seasons. "It's beautiful music," she says. "Like, at home I listen to Beyoncé or Alicia Keys, but this is better… well, it's not better – it's just better in a different way."
This project began after St Mary of the Angels closed and the Royal Liverpool Philharmonic Orchestra stepped into a dispute over the future of the building, rescuing it from property speculators, who have levelled or defiled most other great buildings in the city, to turn it into a rehearsal, recording and education centre for the orchestra. Part of that latter brief was to team up with the school next door and a project called In Harmony, established nationally by the cellist Julian Lloyd Webber, modelled on a phenomenon in music education from Venezuela called El Sistema.
El Sistema was established 35 years ago by José Antonio Abreu, on two fundamental principals: that the poorest of the poor have the right of access to the highest arts, and that the lives of some of the most deprived children in the world, living in the ravaged, violent shanties of Latin America, can be transformed en masse by playing classical music. As the spellbinding Abreu told me gravely in Caracas three years ago, with a stare that pinned me to the wall: "The rich have a duty to the poor which they will never pay financially. But they can pay it socially: to deprive the poor of the beauty of the highest art is a terrible form of oppression."
El Sistema has become an epic movement, a miracle of its kind: there are now 330,000 children from desperate homes playing in orchestras across Venezuela. During his long association with El Sistema's young players, Sir Simon Rattle – the Merseyside-born principal conductor of the Berlin Philharmonic – said: "I have seen the future of music."
On Tuesday 12 October, at the Royal Festival Hall, an orchestra from Venezuela – the Teresa Carreño Youth Orchestra, named after the country's great pianist and the younger sister band to the now world famous Simón Bolívar Youth Orchestra – arrives to play Beethoven and Prokofiev. Rattle will conduct the Teresa Carreño when it moves through Berlin on its European tour, and says that "they play with such mature passion… each generation of El Sistema gets better and better". Here in London, they will be conducted by Christian Vásquez, from Venezuela. It will be a thrilling performance, and one thing is certain: that a clamour of voices will ask: why don't we here in Britain attempt what Abreu started in Venezuela? Well, in our way, we do.
In April last year, the children from Faith primary school travelled to London to hear the Simón Bolívar Youth Orchestra, and medals thrown into the audience by the Venezuelans now serve as prizes in their West Everton Children's Orchestra – the younger version of Christy's Superstrings orchestra. "Oh yes, we'll try anything," says Peter Garden, director of the project for the Royal Liverpool Philharmonic, and with reason: three months later, the children themselves played their own debut at the Philharmonic Hall.
"We have taken the values of El Sistema," explains Garden, "and put them into context locally. It had to include the whole school – that was important, no selection – so as to reach every child up to age 11 in West Everton. The teachers play, so does the cook, and the take-up is amazing – so are the results." Music is integral to the school week, culminating in the Friday night at the Friary music club. "They practise hell for leather," says Garden, and an Ofsted report recounted that the school's "achievement in playing musical instruments and performing in concerts as the West Everton Children's Orchestra is astonishing". But that is not all: Garden shows the effect the music appears to have generally: "The percentage of children who improved their reading by at least two levels in 2008-9 was 36%. For 2009-10, it was 84%." The figure for numeracy increased from 35% to 75%.
Sister Moira Meeghan, the headteacher, plays double bass in the orchestra and confirms: "For the children, it's about self-value, and a door into a different culture – no peer pressure either way because we're all doing it. For parents, it's about seeing the children have an opportunity they never had themselves. For the community – well, people wondered about their church and all. But it couldn't have gone to better use, like we've held on to the Friary – a little bit of God's work still here."
What has been happening in West Everton this morning – this scritchy-scratchy Vivaldi – is more than just a music workshop. It cuts, for all its apparently relaxed joviality, against the zeitgeist of almost every other influence and impact upon these children in a digital, postmodern, post-moral society seeped in celebrity culture and the creatively pointless quest for quick-hit reward – as was fully intended by the Venezuelans who created El Sistema. And Venezuela turns out to be not as far away as it seems: Christy intended to spend last summer practising for a concert the Superstrings would give in September of Vivaldi's "Autumn". And there was a special motive for practising, for as summer rolled along on Merseyside, a possibility emerged: that members of the Simón Bolívar Orchestra might be in Liverpool at the time of the Vivaldi concert, that they might come and listen – and that they might even play too.
Another wet, grey morning – and another rustle of music on the wind, this time by Tchaikovsky and this time in New Cross, south-east London, played by children at Myatt Garden primary school. But not unaccompanied: the pupils are joined by five professional members of the London Symphony Orchestra, to the delight of the children – and, clearly, themselves. This, also, is a didactic music workshop with a difference – part of an umbrella programme called Discovery, established 20 years ago by the LSO as the orchestra's outreach wing, with a mission not unlike that of Venezuela's Sistema, but streamlined over two decades for application to home ground.
"Who's heard of the London Symphony Orchestra?" the young composer Rachel Leach asks the row of faces, wide-eyed and engrossed, and a couple of hands rise, tentatively. Jovial Gerry Ruddock from the orchestra demonstrates how "I have to blow a raspberry into my trumpet" in order to make a sound, which he follows with a burst of Haydn, to spirited applause.
All this by way of warm-up for a performance the children will themselves give. Leach, who wrote the piece as an adaptation of the 1812 Overture (it's about a pig going to a fireworks party) explains to the class that it is "based on music by a very famous Russian composer called Tchaikovsky". And so the performance, rehearsed with the professionals and now played with them, proceeds on its mettle – boisterous and ebullient, ending in applause.
"I love the democracy of it all," says Leach in the headteacher's office afterwards. "I just see faces of children eager to play – I don't know who's top in maths or who's hit who in the playground. Then," she continues, "comes the fact that these are great melodies that everyone can identify with, so the fun becomes an exercise in cognition." Headteacher Glenys Ingham enthuses that "they're playing with passion like never before, learning a high art form, but in collaboration with each other, including children who would never have come to this music, from very deprived and difficult homes – they're a difficult year, this lot".
"All through society, this idea permeates," adds LSO violinist Belinda McFarlane, "that this is what posh people do, this is not for you. But it is – we go from the premise that it is every child's right to appreciate and play music if they want to."
"The starting point for Discovery was the LSO's core mission," says Kathryn McDowell, the orchestra's managing director, "which is to take the greatest music to the widest range of people possible, taking a symphony orchestra to places it would never have gone before." It is, she says, "a crucial part of what we do. I've seen it over and over again – the power of music to change people". She speaks not only of the LSO but of her roots in Northern Ireland. "Many times, I've seen how this kind of contact with music has discouraged boys from literally becoming loyalist or republican paramilitaries. They learn self-regard, self-confidence."
Coventry boasts a proud past building British cars famous worldwide: Rolls-Royce, Jaguar, Hillman, Austin Rover. But politicians, planners and factory closures have wrought more havoc in Coventry than Hitler's Luftwaffe could ever have hoped to achieve, and Coventry became best known not as a manufacturing hub, but as the Specials dubbed it – a "Ghost Town". Now, the Lego-brick Ramada hotel has a Jaguar suite and a Hillman suite, but no cars of that name are made here any more. "It's all a symptom of the general malaise," says Catherine Nyman, deputy head of Frederick Bird primary school in the poor Hillfields district of the city.
But the ravages of deindustrialisation only encouraged Nyman to hook up with Christopher Monks, artistic director of the Armonico Consort – a polyphonic choral group – to bring Hillfields and Monteverdi together: this month, children from Frederick Bird will be involved in a project called Monteverdi's Flying Circus, singing the Ave Maris Stella from the Italian master's 1610 Vespers. But first comes a night singing a selection of international folk songs for their parents. "Some of these children come from horrific backgrounds," says Monks, "in an area blighted by insecurity bred of recent immigration." In 2001, Hillfields was a battleground for race riots, since which time further tensions have greeted arrivals from Iraq, Africa and eastern Europe. For some of them, says Laura Berridge, Armonico Consort's director of education, "school is the only home they have, and what they do here is their escape."
"And yet," says Monks, "they are bursting with talent."
In they wander for a chat before their performance. A boy called Bogoni, oozing mischief, has come, "because I like doing something which afterwards people say to me: 'That was good!'" If he wasn't here, Bogoni says, "I'd be on the computer". Hamza, aged nine, likes singing, "because there are so many songs in the world, and they are all so different", and because "I prefer being with people here than at home watching telly". And Emily, with blond pigtails, because: "I get a good feeling when I sing. I can express myself, I have a voice". Don't you usually have a voice? She pauses: "Not really, no."
They sing their little hearts out and rock to the beat – even a backbeat sung in harmony – of traditional folk songs from across the world. Laura Berridge addresses the parents, most of them amazed by what they have heard: "It's such a pleasure to work with your children – they're so talented." A mother sitting next to me is close to tears. "It makes me feel ashamed," she confides. "I never knew."
This occasion forms part of the work of an extraordinary institution called Youth Music, on whose board of trustees Simon Rattle sat when it was founded in 1999, calling its Action Zones "music power sources". Youth Music's chief executive officer, Christina Coker OBE, prefers to call her organisation "a movement" working in differently deprived environments across the country, especially those, says Coker, "where industry has declined, and where often the secondary industries came and went. Places now entering into a third generation of unemployment, where there is no sense of future." These are places where, she says, now more than ever, "the young need a sense of community and fulfilment.
"Of course El Sistema is an inspiration," says Coker. "The idea is the same: an insistence that children actually want to be good at things – as is so often overlooked – and can be if they are given the chance." She is acutely aware of the way her work counters the currents of society: "In an age which encourages the pursuit of instant gratification, music is a commitment – it's a long journey. In an age of fragmentation and fragmented concentration, music focuses the mind."
Youth Music, unlike El Sistema, encourages excellence in all forms of music, not just classical. "In some places the resistance to classical music is still there," she says. "But all good music is good music, whether it be classical, jazz, rap or rock, and provided the quality of the experience for the children is excellent, we know that they will be engaged." Indeed, some of the most interesting projects established by both Youth Music and the LSO involve more rap than Rachmaninov.
Among Christina Coker's preoccupations are coastal towns on Britain's forgotten edges, battered by economic blight – seaside tourists replaced in bed and breakfast houses by lodgers paid for by social services. The road into Morecambe, Lancashire winds past the Pound Fever discount stores to the windswept prom, from which the Youth Music Action Zone centre is a block back, flanked by many buildings abandoned, boarded up or even burned out.
Morecambe went into "steep decline after a brief boom when workers building the Heysham nuclear power plant stayed here", explains Geoff Dixon, director of More Music Morecambe. "That was the 1980s. But when we first moved in here, we had to negotiate with local kids hanging around the square there. They smashed our windows, a couple of our staff were shot at with air guns. So we invited them to have a try" – working with the equipment, writing and mixing their songs.
Two young people arrive, Jack Bee, aged 20, and Jade, 14. Jack is lanky, friendly and restless; Jade shorter, puckish, with a ponytail. It seems perfectly normal, coming to practise their beat-boxing rap here, but behind their presence lies a tale of war and peace. There are two estates on the edges of Lancaster up the road; one of pebbledash housing called Ryeland, tagged by the local gang with the number 902, and at the entrance to another, Marsh Estate, the number 808 graffiti sprayed on a gable end tells you whose territory you are entering. The two gangs had been at war for years.
Jack, a bricklayer, recounts: "It got bad, man, serious trouble, organised fights, knives. Yeah, there were a couple of fatalities. No one from 808 would go near Ryeland without trouble. I was in court a couple of times, and it was all going that way. Then the guys at the youth centre said: 'Why didn't we rap it out instead of fight?' So we got rapping. And when it started in Morecambe, we came down here to play. It was, 'What do you actually, really want to do?' I see this building and I think: that is something. Now I can see I was wasting my time, fighting. Now, I'm free from all that."
Jack says he started writing "when I was 16, my own songs, about my attitude and gun and knife crime, and how to stop it". As for Jade, she "started coming last summer, a year ago. I come down even if I'm ill. I come because it's a way of not getting lost like the kids on my estate. If I come here, and sing, I can put myself forward – when I do a gig, even my grandad comes! And since I started coming here, I've decided to go to college." They perform a duet written by Jack: "So put 'em down, man, you don't need 'em / All they do is fuck around with people's freedom". We drop Jack and Jade off home: Jade's dad appears, "made up" with Jade, who's won a Lancashire-wide singing competition. But Jack is fidgety: "I shouldn't rightly be hanging around here," he says, truce or not.
Down in London, two appalling murders of teenagers happened this spring: on 4 March, a 16-year-old, Jessie Wright, was strangled in King's Cross. On 16 April, Agnes Sina-Inakoju, also 16, died after being shot in a takeaway in Hoxton. What on earth could these murders have to do with the London Symphony Orchestra? This: both girls have friends among a group that makes music at the LSO Discovery's digital tech group. "We're an international orchestra," says Kathryn McDowell, "but also a local band. And each of these roles is integral to the other – we're a London orchestra and we have a responsibility to music in the city, especially around the Barbican – these are our roots."
In August this year – in LSO St Luke's on Old Street, east London, commandeered by the orchestra – a rapper called Josh sings the song he has written to commemorate Jessie Wright, backed by mixed tracks and live musicians including Thomas Goodman from the LSO on electric bass. The concert has been long prepared, Josh and his friend Ahmed from the perilous estates nearby laying tracks to "Jessie Wright" and another song for Agnes – "a tribute to a girl got shot in Hoxton", Josh says, with apparent nonchalance, but a stab of sorrowful anger in his eye. "Going down LSO" has become part of the street talk in this violent quarter; Josh started doing so five years ago. "When I began going down LSO, that's when things started happening for me," he says. "That's when I stopped playing the fool. People ask me: 'What, man? You still going there?' But if they gave themselves the chance to see it, they'd come too. For my friends, it's a problem of attention span, being focused enough. You have to want to be here."
Not that everything that happens at LSO St Luke's is rap – far from it. The second half of the August concert comprises big band numbers for jazz ensemble, the Fusion Orchestra, of children playing from memory. This brings lads like 12-year-old Matthew Mason down from the magnificent studio his father Mark, from a coal-mining town ravaged by pit closures, lovingly built him in the back garden at Gants Hill, north-east London. But the fusion orchestra also gives six musicians from the LSO a chance to play alongside the children. What's in it for them? "It's very rewarding," says Goodman, "a high point of the job."
The LSO is on something of a roll at the moment: on the right night with Valery Gergiev, arguably the best (certainly the most exciting) orchestra in the world. What if one of the contributing factors to this zenith is the outreach work itself? "It's not for everyone, but those who do it love it without exception," says Kathryn McDowell, "and they learn from it. Discovery allows them to develop their own musical skills in a different way, and I'm convinced this does influence the music we make on a number of levels. And as more of our musicians get involved, this learning process becomes integral to what we do and who we are, which has to have some effect on how we play."
There are, of course, differences between this fermentation of music in the UK and Venezuela – one of which is a reserve in Britain towards classical music. The LSO transforms the lives of the rappers at St Luke's, but none of them have been to the Barbican to hear the orchestra. But back in Liverpool, the classical repertoire is urged for what it is. "You won't see any DJing or MCing in here", says Peter Garden, flicking the switch to illuminate the huge interior of St Mary of the Angels.
Two months have passed since my first visit to the Everton orchestra. The day of the Vivaldi concert has arrived and the children stroll into the Friary – scrawny, scally, mischievous – and scratch out a square dance with gusto on their violins and what seem to be hugely outsized cellos. "Bravo!" comes a cheer from among four older boys lounging by the aisle pillars. This is the Simón Bolívar Quartet from Caracas, the cream of the orchestra's string section, on tour and calling in on Everton for a day – but not just to listen.
For the next piece, the Venezuelans position themselves in the orchestra: "Hola! What's your name?" lead violinist Alejandro Carreno asks a red-headed boy with freckles, adjusting his posture; then does the same to a girl with the frame of a tiny flying insect in all its colourful glory. At the end, he says: "You play very good, but some of you sit like you are 85 or 90 years old! You must sit proud, so you can play proud," he urges. "Play with attitude." Alejandro then explains how "Maestro Abreu did something very important in my country…" – and the children hear the story of where all this came from.
The quartet then plays a private concert: a mellifluous account of the finale from Dvorák's American quartet, to which one boy dances as though to a pop song and another plays air violin. "They're out of this world," sighs Jack Mallon, the school lollipop man, who comes to all the children's rehearsal.
"Use your instruments," counsels Alejandro at the end of the day, "to show the people what you are feeling. Sit proud, play proud."
"So," concludes the teacher, Sally Anne Anderson from the Philharmonic, "every time that I or another teacher repeats those words, we'll remember our friends from Venezuela." Alejandro talks in private about this being one of the poorest corners of Europe, insisting: "And see how this is where the talent is – not only in the conservatoire. I can see myself in those children. This is how we started."
The church is still empty when the children start arriving for the big evening events: the Superstrings rehearsal and public performance of Vivaldi's "Autumn". Christy is on the end, one of four children warming up with the quartet. "Can we do it pizzicato?" pipes a girl called Chloe McGreal during one passage. "Why not?" replies Alejandro. "In chamber music, everyone's ideas are important!" And there's another run-through, "because I don't think you feel quite confident yet". Indeed, Christy is in tears – but not of sadness. "It's just so exciting," she whispers. Then the audience arrives: the director of the Philharmonic Hall, councillors and parents.
The children and the quartet, as a small chamber orchestra, play a lilting performance of "Autumn", 13 Stations of the Cross as backdrop. Christy and Chloe give it all they have, faces fixed with concentration. "It's like a dream come true," says Christy's father, Tony. "A dream I never had, never imagined it." Christy's 30-year-old sister, Natalie, says with an expression of both pride and sadness: "It's something we never had. She has a totally different attitude from the rest of us because of all this – she's talking about university, and she's off to the Tate tomorrow."
Alejandro concludes the concert with a speech: "This all began with Maestro Abreu and a small group of musicians 35 years ago, who played sitting on rocks. Now we are in Liverpool, and all over the world. Now we are no longer dreaming – the youth of Venezuela is the youth of Liverpool and the youth of the world. Please, you must play with your heart, and you must fight."
Next evening, the quartet continues its sold-out tour of Europe with a concert among the neo-classical statues and beneath the chandeliers of Liverpool's magnificent St George's Hall. The scrubbed, bright little faces from West Everton line the front row of the balcony, leaning forward, eyes popping out with expectation. In London five nights beforehand, the quartet wore casual wear to perform; here, they are dressed in formal black – and I should damned well hope so, because Christy has changed into a polka-dot party frock and swapped her blue hairband for a lacy black ribbon tied in a big bow. In London, the children in the audience fidgeted and whispered their way through Dvorak's quartet. Here, they are enthralled, not a flicker of distraction, even from the flurried vortex of Beethoven's Grosse Fuge.
And not only through Beethoven; the second half of the programme is a performance of Shostakovich's confessional eighth quartet – agitated, difficult music for a child. But as introspective anguish in the opening Largo twists suddenly into a turbulent, rushing allegro molto, Christy and Chloe turn their faces away from the stage and stare at each other, startled and wide-eyed, as if to say: "Did you hear that?", then swivel back towards the music. At one point, I fidget with my glasses so as to read the programme – Chloe swings round and throws me a stinging glance of reproach, like a seasoned concert-goer scolding a child – rather than the other way round.
The quartet wrestles its way to the end of Shostakovich's unquiet masterpiece, the reprised Largo with its complex contrition and very adult fears. The audience applauds and the children shoot to their feet, first to stand; from the stage, the Venezuelans wave to them in the gods, smiling, and the children wave back. "Well, I'm hooked," says Tony the taxi driver, exhaling with emotion. And Christy? "It was brilliant! I just wish they'd stay here and do it all again tomorrow."


Ed Vulliamy | October 3, 2010
Weblink: http://www.guardian.co.uk/