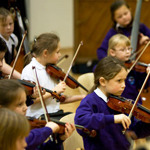 Report concludes that Sistema Scotland project to immerse deprived children in classical music is having a positive effect and can achieve 'social transformation'.


Raploch, on the outskirts of Stirling in the heart of Scotland, may boast a stunning location between Stirling Castle and the city's famous monument to William Wallace, benignly overlooked by the Ochil Hills. But it is one of Scotland's most deprived estates, with 33% unemployment, grave problems with drug and alcohol abuse, and poor health. Only four children out of every 100 make it to higher education.
But since 2008 an audacious project to change the future for Raploch's young people by immersing them in classical music has been working with 80% of children at nursery and primary schools. And now a new report commissioned by the Scottish government has concluded that the project, Sistema Scotland, has the potential "to achieve social transformation".
Though the report acknowledged that the success of the long-term aims of the scheme – including hopes that children will be driven towards higher educational achievement and, ultimately, out of poverty – are impossible to evaluate at the moment, it concluded that the scheme was already having an overwhelmingly positive effect on the children involved.
The programme is based on the Venezuelan El Sistema, the celebrated music-education and social-inclusion project founded in the 1970s, which has produced musicians such as Gustavo Dudamel, the music director of the LA Philharmonic, and the acclaimed Simón Bolívar Youth Orchestra.
Sistema Scotland has 388 children involved, of whom 90 have joined the Big Noise Orchestra, playing music together for up to 20 hours a week, and receiving intensive tuition from experienced musicians.
During term-time the children in the orchestra receive tuition in after-school clubs, and in the holidays they are taught five times a week.
Of the parents questioned for the report, all felt that their child's confidence had improved as a result of their involvement, and over 90% felt that their child was happier. Nearly 80% believed that their child was better able to concentrate, was more disciplined and more focused after their involvement in Sistema Scotland.
The report said that "the holistic, immersive approach of Big Noise is central to achieving significant transformation, particularly to the lives of the most vulnerable children".
Sistema Scotland was initiated by Richard Holloway, a former bishop of Edinburgh, after he visited Venezuela and was impressed by the profound social effects that El Sistema had on the young people involved.
The scheme costs £474,000 a year, with 11% of the funding coming from public sources, including Stirling council. The organisers of Sistema Scotland are now keen to increase fundraising efforts to establish versions of the scheme in other parts of the country, and aim to be working with two more communities in the next two years.
Scottish culture minister Fiona Hyslop said: "This evaluation shows that Sistema Scotland's Big Noise Orchestra is a great cultural experience for the children involved, which is having a positive impact on their lives. They are learning through creativity and aspiring to be part of something bigger."


Charlotte Higgins | March 16, 2011


Weblink: http://www.guardian.co.uk/