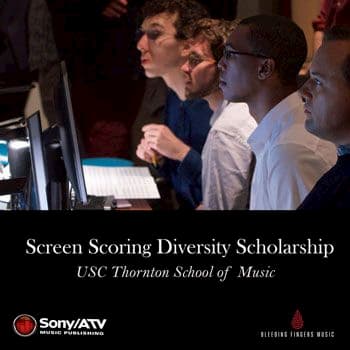 Sony/ATV Music Publishing and Bleeding Fingers Music announced they have established a Screen Scoring Diversity Scholarship for Black composition students within the Screen Scoring Master's Program at the University of Southern California Thornton School of Music. The scholarship, which is part of Sony Music Group's Social Justice Fund efforts, aims to encourage inclusivity and expand opportunities for Black composers, who are vastly underrepresented throughout the film and scoring community.

The Screen Scoring Diversity Scholarship will cover the entire cost of USC Thornton's Screen Scoring Master's program, including tuition, housing and meals, application fee reimbursement, equipment, applicable relocation costs, and software purchases. It will also include an apprenticeship opportunity at Bleeding Fingers Music, the leading custom scoring company in the film and television industry, founded by Hans Zimmer, Steve Kofsky and Russell Emanuel.
Notable USC Thornton Screen Scoring alumni includes Bleeding Fingers composer Austin Hammonds. Since graduating from the program and joining Bleeding Fingers as a composer, Austin has quickly made a name for himself within the film and scoring community. Full story.
Sony/ATV Music Publishing / November 16, 2020
Weblink : https://www.sonyatv.com
Photo credit : https://www.sonyatv.com