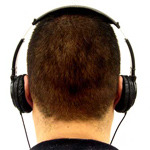 New research finds a shift in emphasis in pop song lyrics over the decades, from "we" to "me."


Vocalists often warm up by singing "Mi, mi, mi, mi, mi." But increasingly, the songs they perform — or at least those that make the top 10 lists – are odes to "Me, me, me, me, me."
Clear evidence of American society's increasing narcissism can be found in our best-selling popular songs. That's the conclusion of a study just published in the journal Psychology of Aesthetics, Creativity and the Arts.
Compared to a quarter-century ago, "Popular music lyrics now include more words related to a focus on the self," reports a team of researchers led by University of Kentucky psychologist C. Nathan DeWall.
Curious to find whether the increasing levels of narcissism documented in previous studies would be reflected in the music young people listen to, DeWall and his colleagues analyzed the top 10 songs in the U.S. for each year between 1980 and 2007 (as measured by Billboard magazine).
Using the Linguistic Inquiry and Word Count program, which "counts the percentage of words in a body of text that correspond to various categories," they analyzed the content of the lyrics in several related ways.
The researchers found the use of first-person plural pronouns (we, us, our) declined over the years, while the use of first-person singular pronouns (I, me, mine) increased. Words reflecting anger or antisocial behavior (hate, kill, damn) became more prevalent over the 28-year period.
Conversely, terms depicting social interactions (talking, sharing) became less common, as did the use of words conveying positive emotions (love, nice, sweet). These findings mirror "recent evidence showing increases in U.S. loneliness and psychopathology over time," the researchers write.
This is troubling in the light of other recent research that found songs conveying antisocial messages tend to promote aggressive thoughts and hostile feelings, while those with lyrics promoting peace and love can increase empathy and encourage selflessness.
DeWall doesn't view pop music as a cause of increased narcissism and social isolation, but he and his colleagues do see it reflecting and supporting this societal trend. Psychological processes and pop-culture products "mutually reinforce each other," they write.
At the moment, the attitude they're mutually reinforcing seems to be self-centeredness. We'd might as well face it: We're addicted to self-love.


Tom Jacobs | March 31, 2011


Weblink: http://www.miller-mccune.com/