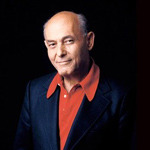 Harvard University's Loeb Music Library is the recipient of a large part of Sir Georg Solti's archive, including hundreds of marked scores, the University announced yesterday. The Library is already home to Solti's recordings archive for British Decca from 1947-1997, a collection said to include collaborations with most of the major artists on the world's stages during that time span. Solti holds the world record for the most Grammy awards – in any category.


The conductor apparently marked up a new score almost every time he performed a given work, documenting multiple interpretations of the same piece.
"Sir Georg's conducting scores… provide insight into the workings of an inspired and accomplished musical mind," said Loeb Music Librarian Virginia Danielson in her comments. "They lay bare understandings of style, technique, and interpretations of monuments of Western music."
The archive also includes assorted correspondence, and the Solti family's gift is sufficient to support digitizing the collection, expected for completion by early next year.
In addition to the Decca cache, Loeb Music Library is the repository of the conductor's broadcast recordings from 1937, including 1960s Met Opera and Royal Opera performances.
The Chicago Symphony Orchestra also houses some of the conductor's archive material. Solti was the orchestra's music director from 1969 to 1991.


Susan Elliott | May 18, 2011


Weblink: http://www.musicalamerica.com/
Photo credit: http://www.last.fm/