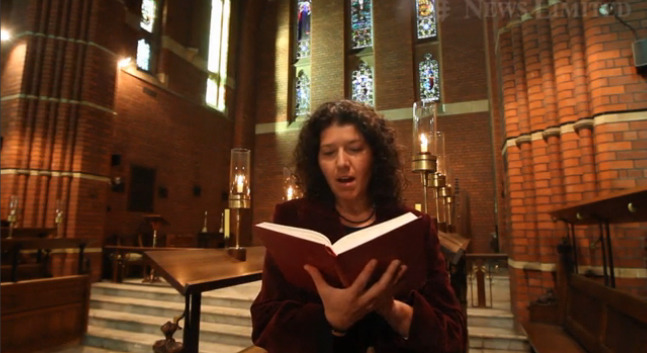 MELBOURNE researchers have used hi-tech imaging equipment to save a woman's ability to sing, after world-first surgery to remove part of her brain.

The imaging also led to a decade-long pioneering research project that has mapped how the brain controls singing.
Since having a portion of her right temporal lobe removed to stop epileptic seizures, Sally Watt's brain has rewired itself.
She can now sing pitch-perfect and play the piano from memory.
Ms Watt, 35, had tried all medications to control her epilepsy without success.
To bring the seizures under control, she had a 3cm-wide portion of brain surgically removed.
"When I found out the part of my brain where the seizures were happening also controlled musicality, I freaked out," she said.
"Music was the only thing I was good at, so there was no way I was going to lose that."
Florey Institute of Neuroscience neurologist Graeme Jackson led a team of 10 researchers to determine what parts of Ms Watt's brain were involved in singing, to decide if neurosurgeons could avoid removing that part of the brain.
The tests involved Ms Watt imagining that she was singing while she was inside an MRI machine.
"Mug singers sing with their language systems, which is why it doesn't quite work," Prof Jackson said.
"Intermediate singers swap and use language-like areas on the other side of their brain. Expert singers rearrange it yet again. The epileptic process meant Sally had learned to sing in a way no one else had."
Prof Jackson said findings from the research project spurred by Ms Watt's case and involving the Florey, Austin and Royal Melbourne hospitals, had unlocked the secrets of brain plasticity and how singers "find their voice".
"We've reached this amazing period where we can see the brain thinking," said Prof Jackson.
"We can now look at the brain of someone in the scanner and tell how good their pitch is going to be by what patterns they use when they imagine singing.
"And we can probably tell you how expert you are."
Ms Watt said the surgery had controlled the seizures and allowed her to continue pursuing a career in music.
"The surgery totally rearranged my thinking, but it's better," she said.
"I can play pieces on the piano from memory just by singing the piece in my head. It's so weird, but wonderful."

Brigid O'Connell (Herald Sun) / May 22, 2013

Weblink : http://www.news.com.au/
Photo credit : http://www.news.com.au/