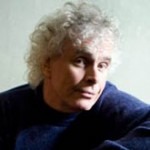 Simon Rattle is coming home to Birmingham for a rare working visit — but he holds few hopes for his native land
So you think the mood in Britain is gloomy? The view from Berlin looks even more apocalyptic, it seems. "If I were not British," says Britain's most celebrated conductor, "I would say that this old country of ours is going through a kind of endgame."


The remark is so startling that I stare open-mouthed at Sir Simon Rattle. Does he mean that Britain is finished? "Well, that cannot be true, can it?" he goes on. "And yet what I read about the country at the moment is totally depressing."
Will he vote in the election? "Let's put it this way: every time I read about what Wagner was like, I wonder why I am performing his music. And every time I read about what British politics is like, I wonder why I should vote. But I suppose I'd better get my act together and support someone on the day."
The Tories? A vote for change? Rattle laughs, as if I've suggested that he conduct a Lloyd Webber medley at his next Berlin Philharmonic concert. "Look, how long have you known me? You can't really imagine me voting Conservative, can you? If I knew myself who I was voting for I would tell you.
"The other day I even caught myself thinking: 'Maybe a coalition government wouldn't be a bad thing.' God, I really am becoming a German."
That's not so surprising. The 55-year-old Englishman has spent eight years at the centre of musical life in Germany's capital. Does he find himself echoing Kennedy's "Ich bin ein Berliner" line? "No, I don't feel like a doughnut yet," Rattle grins. "Just a bit deracinated. I'm the one who can't speak English any more, without necessarily being able to speak German. It's interesting how quickly you feel distanced from your own country."
If Rattle feels too distanced to play any part in the forthcoming struggle to stop what are predicted to be swingeing cuts to arts subsidy in Britain, that would be a huge pity. During his 18 spectacular years at the helm of the City of Birmingham Symphony Orchestra he was a brilliantly articulate talisman for the arts generally and music in particular. His view is that culture should be at the centre of civic life, and he believes that in Berlin he has found a city that matches his own ideals — and perhaps offers a salutary lesson to Britain.
"A few years ago Berlin was technically bankrupt," he points out. "It's still far from a rich city. But everyone there recognises that the jewel in its crown is its culture — museums, opera houses, orchestras, theatres. And so, despite the lack of wealth, they look after us. Mind you, the players in the Berlin Philharmonic haven't had a salary rise for five years. But with so many people in the city struggling, we count ourselves lucky to have a pay freeze!"
And under Rattle's leadership the Philharmonic has embraced Berlin — all the city, not just the plush western suburbs — in a way that never happened before. One of his first acts was to take the orchestra to Treptow — a grim eastern suburb — and give an unforgettable performance of The Rite of Spring, danced by hundreds of ethnically diverse children, in a disused tram depot. By such bold initiatives is he redefining what 21st-century orchestras can, and should, be doing.
"Oh, we've found another great space now," he says. "A factory, also in East Berlin, that was built in the 1870s and looks like a cathedral that's been destroyed — the ideal set for Parsifal, you might say. But it's got magnificent acoustics! And did you hear about our excursion to Tempelhof Airport? We did Stockhausen'sGruppen in a vast, Nazi-era aircraft hangar there. Stockhausen would have loved it. Unfortunately he died a few weeks earlier."
So is all now harmonious between Rattle and the Berlin players? When I last met him, in 2006, his interpretations of the German classics were the target of vicious assaults by some Berlin newspaper critics, supported (it seemed) by a faction within the orchestra. Though Rattle's contract was subsequently renewed (he stays until 2018), the episode seemed to have shaken him — perhaps for the first time in his gilded career.
"Of course that stuff is bruising," he admits. "But it comes with the territory. And let's keep it in proportion. Conducting the Berlin Philharmonic is not like being in Gordon Brown's shoes. Besides, we were still in a transitional phase. When the orchestra voted for me, they knew they were opening a package that had "danger" written all over it. But in the last couple of years I think we've started to do the level of work that we should be doing."
Today, however, Rattle leaves Berlin behind and returns to his old stomping ground. A week of rehearsals in Birmingham will culminate in two performances of Bach's St Matthew Passion with the City of Birmingham Symphony Orchestra and Chorus, and a solo line-up including his wife, the Czech mezzo Magdalena Kozená. Rattle's performance of Bach's St John Passion in Birmingham eight years ago was one of the most remarkable I've heard: paced like a thriller, it hit me like a single bolt of lightning.
"But the St Matthew is very different," Rattle says. "I always think of the St John as happening in real time. It is the Evangelist watching his friend Jesus being destroyed — whereas events in the St Matthew are contemplated from a distance. Some of its arias are the original definition of time standing still."
Remarkably, this will be Rattle's first St Matthew (he conducts it again at the Salzburg Easter Festival, in what promises to be a provocative production by the American maverick Peter Sellars). "That's not so surprising," he says. "I've loved Bach since childhood — and been scared stiff of him. It's the only possible attitude."
Will he now do Bach's other monumental choral masterpiece: the Mass in B Minor "No. That's too hard. It's beyond me." Seriously? "Yes. Some things have to be put aside. Maybe one day, who knows?"
Rattle is upbeat and generous about the CBSO's quality under its present music director, the young Latvian Andris Nelsons. "One of the most fantastic moments I had last year was when I happened to be in Lucerne and heard the CBSO and Andris perform La Mer, the Four Sea Interludes from Peter Grimes and La Valse — all stuff that I used to do with them. It was fantastic. I don't know that I've heard a better live performance of the Debussy.
"Afterwards one of the older players said to me: 'You taught us to play all those pieces.' I replied: 'Yes, but they never sounded as good as that!' You know, there's a generation of serious, caring young conductors coming up — Andris, Robin Ticciati, Yannick Nézet-Séguin, and of course Gustavo Dudamel — that makes my heart burst with pleasure."
These days Rattle works with British musicians only once or twice a year. This, for instance, is his first concert with his old band, the CBSO, since 2006. That's sad. Whenever he does return, the music-making is electrifying. Can't he come back a bit more often? "Actually," he reveals, "next season I'm back in Birmingham for the 20th anniversary of Symphony Hall [the superb venue that he cajoled and charmed Birmingham City Council into building], and I'm also doing a Bruckner and Messiaen programme with the London Symphony Orchestra."
And Covent Garden, where he conducted a shimmeringly luminousPelléas et Mélisande in 2007? "It's so hard to find free time," he says. "But, as I'm sure I'm not allowed to tell you, we have a plan to do Carmelites [Poulenc's opera Les dialogues des Carmelites]. I adore that work. But it's some years away."
Rattle, on his third marriage (his former wives were the American singer Elise Ross and the writer Candace Allen) now has two young children. "If you make the choice to have a second family — and a working wife — you get what you deserve," he says wryly. "An incredibly complicated schedule. And it will get even more difficult when my four-year-old, Jonas, goes to school."
Surely Rattle won't be doing the school run? "Certainly I will! I can take him on my way to the Philharmonie. A bit of real life isn't so bad for a conductor. It keeps your feet on the ground."
Meanwhile his "first" family is advancing in the profession. Sacha, his oldest son, has been studying clarinet in Berlin and made his solo debut in the chamber hall at the Philharmonie on the same night that Rattle was conducting Schoenberg in the main auditorium. "I said to him: 'It takes real talent as a father not only to miss one of the most important days in your son's life, but actually to be working next door.' "
Would Rattle ever consider moving back to Britain (assuming the country hasn't crumbled into oblivion) if the right job was offered? "You never say never," he replies. "But I'm in the middle of a 16-year stint here in Berlin. It's hard to think beyond that. I've never been a forward planner anyway. It never occurred to me that I would get the Birmingham job in my early twenties. Even less did it occur that I would get the Berlin job that was patently Daniel's [Barenboim]."
Couldn't he do two jobs simultaneously — say at Covent Garden and the Berlin Philharmonic? After all, that's what Barenboim does. "Yes, but to do that you have to be exactly like Daniel — some sort of restless dynamo. For us to fit our lives, the children's needs and Magdalena's commitments into one organisation's schedule is complicated enough. I think that's a fairly clear no."
What, then, about coming back to London in a high-profile temporary role — leading the music at the 2012 Olympics? Has he been asked to take part? "Only tangentially," he replies. "Ideas float in and float out." Would he do it, if approached seriously? "Well, it's a bit late now. My schedule in Berlin is already fixed until the end of 2013. In fact I was alarmed to see that my 60th birthday in 2015 is already pencilled into the orchestra's planner."
Baton Brilliance: the next generation…
Gustavo Dudamel Age: 28 The Venezuelan firecracker exploded onto the classical map by wining the Gustav Mahler Conducting Competition in Bamberg in 2004. But it is as the charismatic figurehead of his native Simón Bolívar Youth Orchestra that Dudamel has really galvanised orchestral life around the world. Simon Rattle called Dudamel "the most astonishingly gifted conductor I have ever come across." He has since been snapped by the LA Philharmonic as their music director.
Robin Ticciati Age: 27 If Britain has an answer to Dudamel it's the newly appointed principal conductor of the Scottish Chamber Orchestra. Equally prodigious — and just as curly-haired — Ticciati's rise to the top came about through the intervention of two powerful mentors. It was Simon Rattle himself who plunked him out of the ranks of the National Youth Orchestra to assist him in a performance of Mahler's Eighth Symphony when he was just 19. Since then, Colin Davishas been a more active mentor: he worked with Ticciati during the boy wonder's Royal Opera debut in Hansel and Gretel in 2009.
Xian Zhang Age: 36 With high-profile women conductors shamefully still thin on the ground, the Beijing-born Zhang is a great hope. "I don't think my sex should matter," she says, "but the more I work with different orchestras, the more I realise people do see the difference. I think it's a quantity thing: once they see more women on the podium it won't be a problem." Europe will be seeing a lot more of Zhang over the next few years. Fresh from her success as assistant conductor at the New York Philharmonic, she has just been appointed music director of the Orchestra Sinfonica di Milano Giuseppe Verdi in Italy.
Edward Gardner Age: 35 Everyone though the young Eton and Cambridge-educated Gardner was taking a huge risk when he was snapped up by beleaguered English National Opera as their music director in 2006. But as ENO's reputation has picked up, so Gardner has been acclaimed as the saviour of the Coliseum, passionate to engage with opera on a dramatic, as well as a musical level, and a winning motivator of the company orchestra. This month he's busy on a different project: he's having his first child with the trumpeter Alison Balsom.
Yannick Nézet-Séguin Age: 34 The French-Canadian was quickly snapped up as principal guest conductor last season by the London Philharmonic, and with good reason: he's a conductor who isn't phased by the gigantic canvases of Bruckner or Mahler. At 24, he was tearing through these monsters with the Orchestre Métropolitain du Grand Montréal, and now names Bruckner as one of his great musical loves. More unusually, he takes tips from the tennis star Rafael Nadal: "The way he goes for every shot is the way I like to conduct — to go for every note."

Richard Morrison | March 1, 2010
Weblink: entertainment.timesonline.co.uk