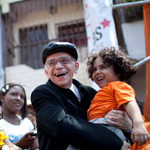 The renowned conductor says José Antonio Abreu should be honoured internationally for his achievement in devising El Sistema, the music education project.


Two years ago in an interview with this newspaper, Sir Simon Rattle – Merseyside-born principal conductor of the Berlin Philharmonic – said of José Antonio Abreu, founder of the miraculous Sistema in Venezuela: "We must have a campaign to get Abreu the Nobel peace prize. What he has done for peace and the higher good in this world is immeasurable."
Well, the campaign in earnest starts here in the Observer as Rattle talks to me ahead of conducting El Sistema's latest bloom, the Teresa Carreño orchestra, in Berlin. "I never met Nelson Mandela, but I have met Abreu," says Rattle. "There are certain people who have given so much to so many people in the world that there is a connection. It is a prize for peace, of course, and people will say that Abreu is not ending a war. But I've been to those barrios and it is a war zone. There are parts of Caracas in which it is just too dangerous to walk. The people living in those barrios are living in a war."
Caracas now competes with Ciudad Juárez, hub of Mexico's savage narco-cartel war, as the most murderous city in the world. "What Abreu and El Sistema have done in there," says Rattle, "is to bring hope, through music, to hundreds of thousands of lives that would otherwise have been lost to drugs and violence. It is impossible to calculate. Abreu has saved those people physically in many cases and he has saved them in other ways too – he has given them life in all its depth. Abreu has built a system that provides nutrition for the soul."
Rattle cites the case of Edicson Ruiz, the youngest double bass player ever to join the Berlin Philharmonic, who took up his instrument aged 15, part of El Sistema. "Edicson told me," says Rattle, "that when he woke up in the morning, he didn't know if he'd have a meal that day, but he knew he would play – 'I'd feed my soul', as he put it."
When I visited Caracas three years ago, I could hardly believe what I was hearing: crack addicts, child prostitutes and gang-fighters being given a violin or clarinet, learning to play Mahler and redeeming their lives, by the thousand. In response, their families changed too, siblings heading for college. I remember a little girl chirping, shortly before gunfire sounded in the distance: "Oh, it's much cooler around here to be into Strauss than salsa." And I will never forget the feeling of awe in Abreu's presence – a presence devoid of ego. There was just the charisma of this former politician who spurned politics and turned his populist Catholic faith to liberation and redemption through music.
"Abreu," says Rattle, "has created a way out of the barrio for thousands of young people. But, more important than that, he has changed life within the barrio, among those for whom there is no way out. Families that were shattered have come together – and all this has been done by playing classical music."
Abreu was born in 1939 in Valera, Venezuela, and became a concert pianist, then an economist and deputy in the Venezuelan parliament before founding El Sistema in 1975. Since then, he has navigated his mission through political regimes of every colour and style: a right-wing military junta, and now Hugo Chávez's leftism; whoever comes and goes, he survives.
"Abreu has seen everything, and has a certain authority that all governments have to take notice of; he's is a wily operator, though he is not immortal," says Rattle. "But his work will continue. He is not a young man, but is even now laying plans for the next generation of Sistema projects, to include choirs and dancing, so that the number involved in the expanded acticvities is now more than 400,000."
But Abreu's laying of foundations for the future of El Sistema, says Rattle, is due to the ethos among its musicians of handing it on. "It is implanted to each generation to help those coming up behind you, to give back to them what Abreu gave you. Musicians can be quite competitive and with El Sistema, there is no shying from excellence." The Teresa Carreño orchestra, says Rattle, after conducting them in Venezuela this summer, is "as good as Gustavo 's orchestra [the Simon Bolivar] was three years ago – and that's saying something". This inherent raising of the standard is intended by El Sistema's founder in "the notion on which Abreu always insisted, that your pursuit of excellence is also that of those who come after you". The result is "like a great society in which you pass on what has been given to you by nurturing the young. I've seen this in Venezuela like nowhere I've ever been: this delight when someone else does something wonderful. We all have an enormous amount to learn from this infectious creative generosity. There is no selfishness at all."
From such principles, says Rattle, "El Sistema deepens and expands. It has grown into the most extraordinary musical and educational movement I have ever seen, both because of the standards of musicianship it has achieved, the extent of the lives that are directly saved and enriched, and the vast scale on which El Sistema now works – in Venezuela and now with an influence across the world. In Europe, it will be different, but I would love to think it could be done. Abreu has got it so right, it's scary."


Ed Vulliamy | October 3, 2010
Weblink: http://www.guardian.co.uk/