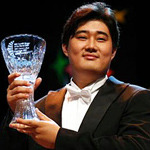 NEW YORK — Most people would mark Shenyang's career trajectory from the moment he won the BBC Cardiff Singer of the World Competition in 2007, putting him in the company of former winners Bryn Terfel and Dmitri Hvorostovsky. But the Chinese-born bass-baritone, now 27, cites the turning point from several weeks before, during a master class by Renée Fleming at the Shanghai Conservatory.


"I was singing Schubert's 'Prometheus,'" he recalled one afternoon in New York during the Met Opera run of "La Bohème" starring Anna Netrebko (he sang Colline). "It's a song not terribly well-known in the West, let alone China. Even Fleming admitted she didn't know it ("It was a male song, after all," he laughs), so he switched to an aria from "Simon Boccanegra."
"She said, 'You're too young for this,' and 'This is too heavy for you'—all the things any teacher in the West would say—but I told her, 'No, my teacher says this is fine.' She said, 'Maybe he wants to challenge you.' I said, 'No, I'm preparing it for Cardiff.'"
By then, Fleming had become so intrigued with Shenyang's raw, thoughtful talent and 6-foot-4 presence that, in front of 500 people, she began discussing competition repertory, finally asking him, "Do you need any help?" Shenyang, then 23, was speechless.
"People afterward asked me, 'Didn't you understand what she was saying?' Of course I did, but I was a student and she was a great diva. What am I going to say? 'Can I have your email?'" But Fleming was serious, and through her local promoter invited Shenyang to fly to New York for ten days of intensive coaching with the staff of the Metropolitan Opera.
It was a move that made all the difference, not merely for winning the competition but for Shenyang's career in general. Rather than return to China a star after the Cardiff event, Shenyang came to New York and enrolled at The Juilliard School. He also was admitted to the Metropolitan Opera's Lindemann Young Artist Development Program.
"After Cardiff, people in China would have hired me to sing a lot," he says, recounting the experience of his opera-singing peers, who shuttle between high-paying corporate events, television appearances and commercial variety shows. "It would've been very comfortable, but really, it's a great thing that I didn't go back."
Since coming to the U.S., Shen Yang has contracted his name into one word, "Shenyang," to avoid the usual stumbling in the West over family names (his given name "Yang" comes second, in the Chinese manner). Google "Shenyang," though, and you get an industrial city in northeast China, making his single-named moniker less like "Madonna" than "Modena."
Growing up in Tianjin, the young Shen stood apart. Although his parents, both singers, had a piano in the home, he resisted practicing. But they never forced the issue. Not until his voice changed, at age 16, did he discover singing, at which time he began studies with a colleague of his father's. By 19, he was studying with Gu Ping at the Shanghai Conservatory of Music.
"At that point, I began to take music seriously, collecting scores and recordings, which was most unusual in China," he says. "The Chinese always complain that they don't have any resource materials, but for the past ten years, thanks to pirated recordings and DVDs, we have the best resources in the world for classical music, and the cheapest."
Since arriving in the U.S. Shenyang's collection of (legitimate) recordings has grown to nearly 3,000 in varying formats. The night before we met, he said he had stayed up till 5 a.m. to hear from eBay about his bid for a set of vintage recordings from the Old Met.
His listening has gone well beyond opera; particularly in Asia he has taken to championing lieder and concert works. "In China, so many people just follow one style," he says. "Tenors only want to sing 'Nessun Dorma,' but that's not all there is to singing." Nor, he adds, is singing all there is to music. "Renée had told me that the best lieder composers were the Germans and Russians, because they have the best symphonic tradition," he says. "I started listening to much more. I love Schubert lieder, but I also love his chamber music. I like Schumann's piano works even more than his songs."
Shenyang's Colline in "La Bohème" at the Met in February attracted critical notice Stateside for his blend of solo turns and ensemble work, easily holding his own alongside Netrebko and Ramón Vargas. I first encountered him two years ago at the Hong Kong Arts Festival in an intriguing program of eight Goethe texts set by Schubert and Wolf. In Asia, he has become known for championing lieder, where the song repertory is all but unknown.
Lately he has begun to trace the history of Western repertory in his native country. On May 6, at the Shanghai Grand Theater, he'll perform a recital of Chinese songs written between 1919 and 1945. "This was China's great era of romanticism, 50 years after it ended in the West," he says. "These composers had great taste in music, in some ways better than Chinese composers today. And they knew the voice."
Shenyang has had to make some tough decisions recently. He turned down the high-profile world premiere of composer Huang Ruo's "Dr. Sun Yat-sen" slated for next fall at Beijing's National Center for the Performing Arts because he was already scheduled to appear with his mentor Fleming in Handel's "Rodelinda" at the Met. And, on the advice of his (and Fleming's) manager Alec Treuhaft, he also turned down an offer from Daniel Barenboim to sing Fasolt in "Das Rheingold" at La Scala.
"Alec said, 'It's not that you can't sing Wagner. I'm sure you'd do well and everyone would love you,'" Shenyang recalls. "But he added, 'If you sing this now, people will only offer you Wagner from now on.' Any singer would love to put La Scala with Barenboim on their résumé, but how could I give up Handel and Verdi? I'd love to sing Wagner, but I have time."


Ken Smith | April 1, 2011


Weblink: http://www.musicalamerica.com/
Photo credit: http://www.bbc.co.uk/