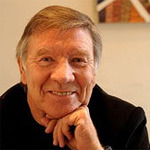 Don Spencer has turned his talents to education, writes Adam Fulton.


Don Spencer has experienced a miracle. Not the sort where troubled young lives are transformed by the power of music from the foundation he created. But an unexplainable, physical one.
For the past 20 years, the guitar-playing singer beloved of many for his decades presenting Play School has been profoundly deaf in one ear. But after his other eardrum burst on a recent flight, he began hearing things with his deaf ear, which has now reached 50 per cent function.
A miracle, says his doctor. "I've got surround sound," Spencer enthuses at a cafe near his inner-city home. "I can actually be aware of the whole room. Unbelievable. It's like I've won the Lotto."
The affable entertainer is much more familiar with that other type of near-miraculous change spurred by his Australian Children's Music Foundation. The two are held in such esteem that a fund-raising concert of duets it is staging next week has drawn an impressive line-up of Australian singers, including Tim Freedman, Ian Moss, Rai Thistlethwayte, Iva Davies, Wendy Matthews, Christine Anu, Glenn Shorrock, Melinda Schneider, Shannon Noll, Tom Burlinson, Jimmy Little, Diesel and Wes Carr.
The foundation, whose patron is Governor Marie Bashir, began in 2002 after Spencer moved off television and on to his long-held idea of taking music to struggling young people to brighten their world. His initial foray into a NSW detention centre for girls went so well it has since grown into a non-profit giant in teaching music to disadvantaged, indigenous and wayward children around Australia.
Its programs extend to all but three of the country's juvenile detention facilities and about 50 of its neediest schools, sending in music teachers weekly and providing instruments. It also visits Aboriginal communities, helping bridge the gap in a country where three-quarters of public schools are said to lack a specialist music teacher.
"It's in dire need, that's why we exist," Spencer says of music teaching at government primary and high schools. All the private ones, in contrast, have substantial music programs. "They do it because they know how important music is.
"Thousands of years ago, Plato said: 'I would teach children music, physics and philosophy. But music most of all, for in the patterns of music are the keys to all learning.'
"When I grew up, every school had a music teacher … Now so many of these kids don't have any opportunity."
As schools groan with programs to improve self-esteem, team building and leadership and counter bullying, Spencer says teaching music should be a priority.
"Music would go to all of these things … yet it doesn't have the support or the credibility within [government] circles."
The conductor Richard Gill, artistic chief of the Victorian Opera, is scathing of the country's level of music teaching at schools. "Australia is basically impoverished when it comes to music education. We lag behind the rest of the world very badly," he says.
Yet its extraordinary benefits extend to all facets of learning. "It's not just for the music for its own sake … they achieve at a very high level in other areas."
Only playing music engages both hemispheres of the brain simultaneously. "That evidence is neuroscientific, it's not anecdotal," the long-time music educator says. He applauds the music foundation's work "but it's not an excuse for a government not to provide proper music education".
That work has striking results. "We get kids in detention who used to self-mutilate," Spencer says. "They started doing the music and get their feelings out – they don't do it any more."
Elsewhere, a "gang school" turned around and won awards after the music foundation entered. Another in the outback reports record attendance of 96 per cent.
As word has spread, the foundation has grown eightfold over the past four years, Spencer says. But the requests for assistance arriving at its North Sydney office, linked to about 25 teachers in the field, are more than its slender budget can grant.
"The only reason we're not in 500 schools is because we don't have the money," he says.
Spencer became a fixture in children's entertainment as a presenter on the ABC's Play School for 28 years, many also on the British show, and through the '80s and '90s recorded a stream of children's albums on Australia and its native animals. He later became Russell Crowe's father-in-law. But his drive to connect young minds with music traces back to growing up in Tamworth.
"My mother did it really tough bringing us up … and music, even though I didn't play it or do it, was the thing I hung on to," he says. "Sport was my way of getting away from things but music was my solace … When things got bad, I'd go up on the roof and listen to music."
Not a day passes when he doesn't pick up his guitar. Often it's to raise funds for the children's work, from the coming duets concert to singing most Thursday nights in the city's Chophouse restaurant.
"We just sit in the corner and play. It's nice," Spencer says. The gigs are here and there. "Make a few bucks and it buys a few guitars, buys a few things. It all adds up. We go from the State Theatre to a restaurant and it's fine. It's what we do."


Adam Fulton | August 2, 2010
Weblink: http://www.smh.com.au/