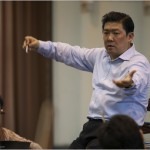 Just over an hour into a rehearsal here last week, the maestro's baton came down like the crack of a whip, and the music screeched to a halt. Long Yu, the imperious 45-year-old conductor of the Shanghai Symphony Orchestra, wanted perfection.


Long Yu rehearsing with the Shanghai Symphony Orchestra last week before the start of a 12-city North American tour.
"Hold it, hold it!" he bellowed. "We want something smoother, as smooth as a lake. Now try it again."
The orchestra was preparing to perform music by Mozart and Mussorgsky and a selection of Chinese pieces the next night here before traveling to New York for a performance at Carnegie Hall on Tuesday evening, when it will close Ancient Paths, Modern Voices, the hall's three-week celebration of Chinese culture. Then it will perform in 11 other North American cities.
This is what the Shanghai Symphony hoped for last January, when it named Mr. Yu its conductor and artistic director: someone who could energize a flagging orchestra and raise its international profile.
Long Yu is China's Herbert von Karajan. After studying in Europe, he returned home more than a decade ago and quickly established himself as the most powerful figure in China's Western classical music scene.
"He's done a lot for the development of classical music in China," said Cai Jindong, the Chinese-born conductor who teaches at Stanford University. "He really knows how to put a good orchestra together."
Remarkably, Mr. Yu now directs the country's three leading orchestras, including the China Philharmonic and the Guangzhou Symphony. He is also the founder and president of the highly regarded Beijing Music Festival and one of the world's busiest conductors. His conducting style is so energetic that some weeks ago he accidentally threw his baton into the orchestra. (He continued conducting by waving a finger.) He seems to have a flair for the dramatic. Last year he took the China Philharmonic on a historic trip to Vatican City to perform Mozart's Requiem for Pope Benedict XVI, an extraordinary gesture, since China's relations with the Vatican have been strained for decades.
China has produced other respected conductors, like Muhai Tang and Xian Zhang, but they are either working overseas or have struggled to lead at home, where politics often matters as much as artistic merit.
Mr. Yu has won praise as a solid conductor with extraordinary management and fund-raising abilities, as well as strong ties to China's political elite, something vital for a conductor who is appointed by the Communist Party. And while he has annoyed some musicians with his dominant presence here, he is also seen as a champion of the arts.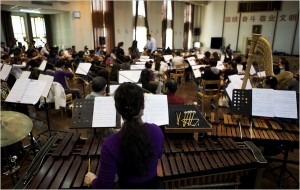 In recent years China has developed a reputation for exporting musical virtuosos to the world's leading music schools and orchestras. But Mr. Yu wants to lure some of those musicians back to China to help build an audience for classical music at home.
To do that, he says, he is introducing international standards. In this, his first year at the helm of the Shanghai Symphony, he replaced one-quarter of the orchestra after international blind auditions held in New York, Berlin and Shanghai. He also brought in Charles Dutoit, the distinguished Swiss conductor, as artistic adviser, and Jian Wang, the renowned cellist, as artist in residence. And to celebrate the 130th anniversary of the Shanghai Symphony, he has used government money to book big names like the violinists Joseph Silverstein and Midori.
During an interview last week at the symphony's offices, Mr. Yu — a tall, barrel-chested man who wears his hair greased back — showed off a model of the orchestra's new home, a $52 million complex that is expected to open in 2011.
"We're thinking of inviting the New York Philharmonic for the opening," he said. "That would be big."
Mr. Yu was born into a musical family in Shanghai. His grandfather Ding Shande is considered one of China's greatest 20th-century composers. His mother is a pianist; his father, a choreographer.
But his childhood coincided with the Cultural Revolution, a decade-long period of social and political madness that led to the persecution of families deemed "capitalist" and a ban on Western music.
"I remember the Red Guards came and burned music in our garden" Mr. Yu said.
Still, as a child, he was taught to play the piano by his grandfather, he said, and he later won admission to the middle school affiliated with the elite Shanghai Conservatory of Music. As a teenager, he switched to conducting.
"I remember one day my grandfather came to my room, and he said, 'I'm sorry to tell you, you can't become a brilliant pianist' " Mr. Yu recalled. "He said, 'You should try conducting.' "
Mr. Yu did so. And after graduating from the Shanghai Conservatory in 1987, he studied at the conservatory in Berlin and then toured Europe working as a guest conductor.
He returned to China in the mid-1990s, settling first in Hong Kong, where he met his wife, the violinist Vera Tsu, and later in Beijing.
His first notable success came in 1998, when he helped found the Beijing Music Festival, China's premier music event. Soon after, he said, the government asked him to take over the China Broadcasting Symphony, a second-tier orchestra that was performing in the shadow of the National Symphony.
Mr. Yu held open auditions for what would become the China Philharmonic, offering to triple orchestra salaries. This resulted in a mass exodus from the National Symphony and the eventual resignation of its artistic director.
"He robbed them," said Wang Jiyan, a former music critic who now works with Mr. Yu at the Beijing festival. "But the National Symphony was not good enough. So many people left."
The philharmonic soon gained a reputation for tough, disciplined performances. And at a time when many audience members still showed up at concerts wearing slippers and carrying plastic bags, Mr. Yu ordered orchestra members to polish their shoes and to summon their passion for music.
His reforms quickly won the financial backing of the Hong Kong billionaire Li Ka-shing, as well as of Deng Rong, the daughter of China's former leader Deng Xiaoping. "She's the biggest supporter of culture in China," Mr. Yu said.
And there have been other benefactors. The Poly Group, a state-controlled conglomerate with military ties and huge interests in the cultural realm, has also backed his ventures, along with Wu Yi, China's former vice premier, who, Mr. Yu said, is a big fan of classical music.
Seeking revivals of their own, the cities of Guangzhou and Shanghai came calling in 2003 and 2009, asking Mr. Yu to lead their orchestras.
Bonko Chan, a Shanghai businessman and longtime supporter of music and the arts here, said the choice was simple. "Yu Long is filling a big gap," he said. "Here is someone who knows music. He has management talent, great P.R. skill, and he knows the government. I can't find anyone else in China with those skills."
Mr. Yu's detractors (and there are plenty) refuse to be quoted by name for fear of offending such a powerful government-appointed figure. They say his skills are more political than musical.
But Mr. Yu says his achievements are indisputable. He has been a guest conductor with the Chicago Symphony Orchestra. This year Gramophone, a leading British classical music publication, named the China Philharmonic one of the world's 10 most inspiring orchestras.
"It matters if you are capable of running things well," Mr. Yu said. "I'm working hard. I'm sleepless. But I have a very high standard."
At Tuesday's Carnegie Hall concert with the Shanghai Symphony, the Chinese pianist Lang Lang will play Rachmaninoff's Second Piano Concerto. Then Mr. Yu will conduct "Iris Dévoilée," a rapturous piece by the Chinese-born composer Chen Qigang, which blends Western orchestral music with Beijing Opera and traditional Chinese instruments.
"This is a piece about Chinese culture," he said, noting how the work describes various aspects of women's lives. "In China we like to say things indirectly. Chinese like to give some distance, to leave something to the imagination. That is the best way."

David Barboza | November 9, 2009
Weblink: www.nytimes.com/2009/11/10/arts/music/10long.html?_r=1&pagewanted=1&ref=music