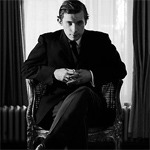 THE virtuoso Canadian pianist Glenn Gould is one of those performers, like James Dean or Maria Callas, whose life and legend nearly overshadow their artistic achievements. But since Gould also insisted on keeping his private life shielded, he would seem to be a particularly elusive and unlikely choice for a documentary film that presumes to call itself "Genius Within: The Inner Life of Glenn Gould."


The Canadian filmmakers Peter Raymont and Michèle Hozer were aware of that obstacle when their project began in 2007, but they still found Gould, who died in 1982 at the age of 50, an irresistible subject. Gould was not just, as Mr. Raymont puts it, "an icon very much in the Canadian cultural consciousness." He was also, despite eccentricities that led the conductor George Szell to say "that nut is a genius," one of the foremost interpreters of the work of Bach and 20th century composers like Arnold Schoenberg.
During his lifetime Gould was often portrayed less as a real person than a collection of tics — perhaps even more so in the many books and films about him that have been issued since his death. At times he has seemed like the Howard Hughes of classical music: a pill-popping hypochondriac who wore gloves, a scarf, overcoat and flat cap even at the height of summer, and who was so averse to physical contact that ordinarily he wouldn't even shake hands.
"We wanted to break through that stereotype and find the real Glenn Gould," Mr. Raymont said. "We wanted to find what he was really like. We wanted to try to see if we could get through to that inner life, that secret person that he and his friends hadn't really been eager or even willing to share with the world."
In the past movies like François Girard's award-winning feature "32 Short Films About Glenn Gould," from 1993, sought to get around that problem by mixing interviews with speculative, fictionalized segments. But, as Ms. Hozer argued, that approach preserves "the mystique around the mythical character, so that he remains a shadowy figure."
As it happens, the Gould estate and the Gould Foundation also were interested in demystifying the pianist's image as an ascetic recluse. Previous films by Mr. Raymont and Ms. Hozer include the Emmy Award-winning documentary "Shake Hands with the Devil: The Journey of Roméo Dallaire," about a United Nations general who tried to prevent genocide in Rwanda. That helped convince both entities that a Gould film could be similarly thoughtful and nuanced, which in turn led them to lend their moral support to the project and give the filmmakers unusual access to Gould's papers.
"The Gould I knew had warmth, humor, brilliance and normal personal relationships, which hadn't sufficiently been explored in the past," said Stephen Posen, a Toronto lawyer who is the executor of the Gould estate. "Having reached this period of time, I felt it would be unfortunate if all the living players were to pass from the scene" without glimpses of Gould's personal life being presented.
But neither the estate nor the foundation had any input into the content or tone of the film, or even sought such a role, both Mr. Posen and the filmmakers said.
As early as 20 years ago Otto Friedrich's biography "Glenn Gould: A Life and Variations" disclosed that the pianist had, during the late 1960s and early 1970s, been involved in a passionate romance with an unidentified woman described as the wife of a noted composer and musician. In 2007 she was identified as the painter Cornelia Foss, who was separated from her husband, Lukas, when she and the couple's two children moved to Toronto to be with Gould.
That relationship, which ended with Ms. Foss returning to her husband amid signs that Gould's mental stability was tottering, became being one of the focal points of "Genius Within." For the first time Ms. Foss and her children, Eliza and Christopher, now grown, talked publicly, revealingly and in detail about their life with Gould.
"This was not something I had any choice about," she said in an interview last month. "The film was going to be made whether I participated in it or not. I talked this over with my husband, and we reluctantly decided that I should participate because I could at least correct some of the misunderstandings" about Gould and her relationship with him.
The filmmakers also interviewed one of Gould's last girlfriends, the soprano Roxolana Roslak, and Frances Batchen Barrault, who was his teenage sweetheart. She provides one of the film's more amusing moments: asked if Gould was romantic, she responds with a long pause before answering, "sort of."
"Genius Within," which opens on Friday in New York, does not focus simply on his romantic life. The film also contains exclusive footage of Gould clowning with friends on a beach in the Bahamas in the 1950s and includes interviews with friends who recall his fondness for practical jokes, his passion for Shakespeare and his curiosity about certain déclassé forms of pop culture, like the British singer Petula Clark and television situation comedies.
"I think this is the best film ever made about him because it has dimensions that weren't dealt with before," said John P. L. Roberts, who first met Gould in the 1950s and remarks in the film that "it was a whole career being Glenn's friend."
"There were several Goulds," Mr. Roberts, a former radio producer, said in a telephone interview from his home in Calgary, Alberta. "But I certainly recognize here the person that I knew."
But "Genius Within" also offers material to those who simply admire Gould's music and couldn't care less about his personal life. Mr. Raymont and Ms. Hozer have, for instance, obtained, from archives in Moscow and St. Petersburg and from a Russian biographer of Gould who later emigrated to Canada, footage of Gould's 1957 tour of the Soviet Union, in which his performance of Bach dazzled fellow musicians like Vladimir Ashkenazy, who offers his remembrances of the concerts.
In addition the film shows Leonard Bernstein's handwritten notes from another landmark occasion: Gould's controversial April 1, 1962, rendering of Brahms's First Piano Concerto at Carnegie Hall, in which he insisted on playing at a tempo so slow that Bernstein felt compelled to express his disagreement in remarks to the audience before the performance. Gould stopped playing live concerts in 1964, and the Brahms episode is sometimes cited as a factor contributing to that decision.
Yet the film does not shy away from Gould's eventual unraveling, with glimpses from his personal papers that document his hypochondria and his growing dependence on prescription medicines. In other footage Gould appears extremely awkward, so unsure of how to establish emotional bonds with others that an audio engineer who became a close friend recalls Gould asking him if they couldn't be legally declared brothers.
"A great deal of it is very beautiful and very touching," Ms. Foss said when asked her opinion of "Genius Within." But there are other sections, which she did not want to specify, that, she said, she personally found "difficult to see, and difficult that other people are seeing it."
But given all the barriers that Gould erected in order to preserve his privacy and solitude, can anyone ever claim to have truly penetrated "the inner life of Glenn Gould"? Ms. Hozer acknowledged that Gould probably remains unknowable.
"The more you know about Gould, the less you know about him," she said. "What adds to his success is that he is such a mystery. That's why we stay fascinated. I hope in the film we made we don't try to say we have the definitive answer, that we leave it open. In fact, I believe that every generation will look at him differently."


Larry Rohter | September 1, 2010
Weblink: http://www.nytimes.com/