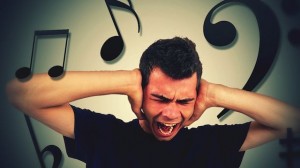 You're minding your own business, doing what you normally do as you get ready for work. While you're in the car, you hear a song that catches your ear, and the next thing you know a line or two from it is stuck in your head. You can't remember how the entire song goes, just that one line. Was it from the chorus? Was it just a line in the song that stood out? Either way, it plays on repeat over and again in our cranium all day.

What can you do to remove the song that is stuck in your head?
Does the term "earworm" have any significance to you? It's a word used to describe the effect of having a song (or part of a song) play repeatedly in your head. Scientists and psychologists have been studying the causes and effects of earworms to determine if there is a scientific source for these occurrences as well as trying to find a solution to this ongoing problem. Full story.
D Grant Smith (CMUSE) / February 19, 2015

Weblink : http://www.cmuse.org/
Photo credit : http://www.cmuse.org/