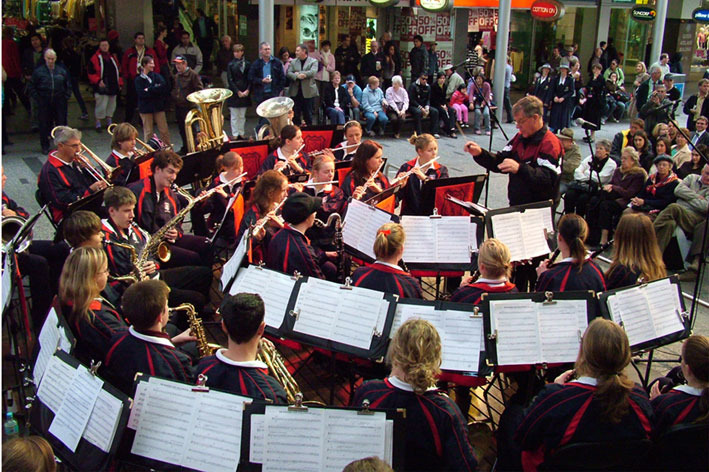 Band changed my life for the best in so many ways. I loved being in the band all throughout high school. It was my home away from home. It was the place that I always looked forward to going to and it was my sanctuary– totally removed from the cliques that were so nasty and prevalent everywhere else.

I nearly missed out on being in the band– and would have if it wasn't for 2 band members who convinced me to join when I met them in Newspaper Club after school. I was a bit hesitant about joining because the only instrument that I could play at the time was the piano–- but I agreed to at least talk to the band director about becoming a member.
After the Newspaper Club meeting let out, my 2 new friends escorted me to the band room where I met the man who was the leader of what would become my second family–the one who would turn the page to an entirely new chapter in my life.
Before joining the band, I was an extremely shy underachiever with low self-esteem. My band director was just the opposite. He was an outgoing, much-loved, very admired workaholic/perfectionist who really knew how to motivate everyone to strive for their personal best. He was also a very responsible, well-respected role model who genuinely cared about all of his students. He also had a great sense of humor and was fun to be around and he became like an informal guidance counselor to any of us who needed his help or advice. He and his staff, which included his equally amazing wife, (who was ALSO a music teacher in one of the district's middle schools at the time) worked tirelessly to motivate us to learn our music, routines, drills, etc.
By being in this very successful band with its motivated staff and members on an almost daily basis– either through the band class, band practice, football games, competitions, parties or trips to places like Rhode Island and Quebec, I not only learned how to play and appreciate beautiful music, but also learned about teamwork and professionalism, among other important life skills.
Now I am a mom to 2 wonderful, sweet, smart young adults. When they were in high school my daughter got a lot out of being in the choir. She always did love singing but choir expanded her world to other genres that she had never heard before. When my son was in high school, he joined the band and the choir. He learned how to play several instruments and was able to fill in wherever he was needed– either as a trumpet player or a baritone player. At one of his back-to-school-nights his band director told me and the other parents that the kids in the music programs are the nicest kids in the entire school and he thanked all of us for encouraging them to pursue band or choir, helping them practice their music and for getting them to all of the events.
Last October I organized a band reunion. It had been 26 years since I graduated high school so it was very thrilling to see everyone again. It turned out to be a wonderful night that lived up to all that I had hoped that it could be (with the exception of a few people wishing that they could go but were not able to attend for one reason or another). Seeing everyone (including my director and his wife) reunited again hugging each other and hearing all of their fascinating life stories and laughter was very gratifying.
Joining the band was clearly one of the best decisions that I ever made. It changed who I am. My parents and I are so grateful that I was able to have this wonderful experience. I am also grateful that my kids' school has a music program and that they were able to experience the magic that comes from being involved in music. Band should NEVER, EVER be cut from schools! It is far too important! It is much more important than most people who have never experienced it will ever imagine or can even comprehend. Please continue to keep it in our schools!

Sylvia Hay (National Association for Music Education) / April 24, 2013

Weblink : http://advocacy.nafme.org/
Photo credit : http://atrl.net/