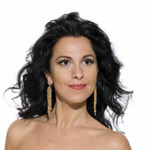 Forget the hair, the gowns, the claws and the ego trips. There is only one thing that makes a true opera diva: weak knees.


Not hers, but yours.
Say the name Angela Gheorghiu to anyone in the opera world, and you will be immediately enveloped in a fog of war.
You will hear about how she walks away from productions she doesn't like. Most recently, she withdrew — "for artistic reasons" — from a new Metropolitan Opera production of Charles Gounod's Faust, to be directed by Stratford's Des McAnuff in November.
You will hear about how she routinely skips rehearsals. She argues with directors. She clashes with costume and set designers.
Gheorghiu engages in battles of wills with conductors — most notoriously Leonard Slatkin, also at the Met. He withdrew from a run of La Traviata last June, after a disastrous opening night.
But, after all has been said and all the stabbed backs have been taped up, Gheorghiu delivers without fail.
When the 45-year-old Romanian-born soprano sings, every slight, epithet and burst of ego falls limply at the feet of her heady mix of golden voice and tractor-beam charisma.
Gheorgiu sheds the wigs and costumes for her long-awaited Toronto debut on Thursday. She performs at Roy Thomson Hall in a solo recital, accompanied by the Canadian Opera Company Orchestra and American opera conductor Steven White.
The program mixes orchestral interludes with opera arias and art song. It's a popular-minded program that includes "O mio babbino caro," from Puccini's Gianni Schicchi, "Song to the Moon" from Antonin Dvorák's Rusalka and Alfredo Catalani's "Ebben? Ne andro lontana," from La Wally.
This is one of the can't-miss recitals of the season.
I had a chance to speak to Gheorghiu for a few minutes on the phone from Bucharest, to get an update on the art of being a diva at the top of her game.
Here are the highlights:
Have the Metropolitan Opera live broadcasts made a difference to you, in terms of being able to reach out to more people?
"The Metropolitan broadcasts? Are you kidding? No, because I am not engaged only at the Metropolitan Opera house. I'm a singer who is singing all over the world." (Gheorghiu reminds me that her international career started at the Royal Opera House, Covent Garden, in 1992, and how she starred in a new production of La Traviata that in 1994.)
"The BBC changed their schedule to put my Traviata on television for the first time in history. So there's nothing original going on at the Met, at this point. It's just an opera house between the others.
"The most unfair thing about these broadcasts is that, all over the world, people are buying tickets to see a performance, my performance, or a colleague's performance, and we are not paid for that. But we do it anyway. If we think we like it, we do it, that is all. I am not selling more CDs because I am singing La Bohème at the Metropolitan Opera House. No. The times have changed, you know?
"The most important for an opera singer is to be so good that it doesn't matter which stage you are on."
Whenever your name is mentioned, there is talk about how difficult you are. You expect a certain standard from a production. You expect a certain standard from a director…
"What do you mean by difficult? Compared to what?"
You don't defer to the director. You have your own opinion . . .
"You need to make that clear, because I'm difficult when I wash my hair, too. (She laughs.) I want to have a good shampoo. I need a nice dress to make me look good.
"I am responsible, not just trying to be good or to be nice. When you are somewhere, you need to answer many questions: Am I in the right place, in the right role with the right people? Do you know how many questions you need to answer before a performance starts? It's crazy. I need to be careful with everything. That is all. I am careful, not difficult."
If you had complete control over your career, which you are pretty close to achieving, would you choose more concert or more opera?
"It depends. My schedule is full to 2015, or something like that. I receive invitations and I try to schedule myself in a way that's not boring." She laughs again.
Do you bore easily?
"No. Never!" More laughter. "I was just saying to a friend how I feel I waste time when I go to sleep."
Are you and (husband, star tenor) Roberto Alagna back together again?
"Yes, sir. I'm very happy.
"In the history of opera, we are the only couple ever to do such a great amount of music together on the same level, as we did in more than 14 years. We did a huge amount of recordings, performances, movies."
How are the music schools in Romania doing these days?
"There are a lot of talented people singing. I believe in school, but I don't believe in such a thing as a single best teacher. I believe in the teacher who has the right connection with the right student. It is impossible to give a prescription to somebody.
"You must have talent. You must meet the right teacher. You must also have huge charisma and luck."
The stars have to be in the right place.
"Exactly like that. There are so many talented people and so many people who win first prizes in competitions, but they don't get a career. If you ask me why, I tell you it's because it's not that easy."
It sounds like you're not disposed to giving master classes.
"Ha! Not exactly. This year, I said my first yes to a master class. I was invited by the widow of (late conductor) Georg Solti, who was so important to my life and career.
"Because I like to share, I think this is a good step for me. I was lucky in my life to meet great teachers and wonderful people, so I'd like to share that."


Related video:
Angela Gheorghiu – Carmen from Habanera

John Terauds | April 6, 2011
Weblink:
http://www.toronto.com/