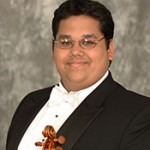 Robert Gupta, violinist with the LA Philharmonic, talks about a violin lesson he once gave to a brilliant, schizophrenic musician — and what he learned. Called back onstage later, Gupta plays his own transcription of the prelude from Bach's Cello Suite No. 1.


Violinist Robert Vijay Gupta joined the Los Angeles Philharmonic at the age of 19. He made his solo debut, at age 11, with the Israel Philharmonic under Zubin Mehta. He's got a master's in music from Yale. But his undergraduate degree? Pre-med. As an undergrad, Gupta was part of several research projects in neuro- and neurodegenerative biology. He held Research Assistant positions at CUNY Hunter College in New York City, where he worked on spinal cord neuronal regeneration, and at the Harvard Institutes of Medicine Center for Neurologic Diseases, where he studied the biochemical pathology of Parkinson's disease.
Gupta is passionate about education and outreach, both as a musician and as an activist for mental health issues. He has the privilege of working with Nathaniel Ayers, the brilliant, schizophrenic musician featured in "The Soloist," as his violin teacher.



March, 2010
Weblink: ted.com
Photo credits: laphil.com