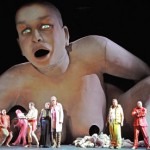 Ten years ago, there was chaos and inertia. Now Britain's opera houses are world class – and its conductors have revolutionised their orchestras.


Classical music didn't die in the early years of the 21st century, despite all the dire predictions. Many of its institutions entered the new millennium accused of social elitism and lofty irrelevance. But, 10 years on, much has happened to prove those perceptions wrong – thanks to some astonishing successes at home and abroad. Who would have thought that our two biggest opera companies, the Royal Opera House and English National Opera, would be in such rude health? Or that UK orchestras from London to Liverpool would have snapped up the hottest young conducting talent out there – and that the best of them could rival some of Europe's top outfits? Or that British composers of all ages would be among the most respected and most performed the world over? Or that audiences would be on the rise and getting younger, and that music education would be at least visible on the political agenda?
The Royal Opera's rollercoaster ride from managerial rags to artistic riches is the biggest success story of the decade. In 2000, Covent Garden was mired in boardroom cock-ups and artistic atrophy. The arrival of Tony Hall as chief executive in 2001, and Antonio Pappano as music director a year later, was the company's final throw of the dice. There have been ups and downs since (Keith Warner's confused, controversial Ring Cycle was a bit of both), but Hall and Pappano have maintained the Royal Opera as a place where the best singers – Plácido Domingo, Anna Netrebko, Bryn Terfel, Jonas Kaufmann – still want to be seen.
They've also managed to make it feel more like a part of the nation's consciousness, with free open-air screenings, relays to cinemas, and cheap tickets for first-timers. Shamefully few new operas are staged at Covent Garden, but two works it commissioned were winners: Thomas Adès's The Tempest in 2004; and Harrison Birtwistle's The Minotaur, premiered last year. The fly in the ointment is its plan for a Manchester outpost, an expensive and potentially divisive scheme that surely won't survive a change of government.
English National Opera's decade reached its nadir four years ago when, at a performance of Berg's Lulu, Paul Daniel, outgoing music director, was booed by the company's marketing director. It was a moment that symbolised the chaos the management had caused: they tried to appoint a Russian no one had heard of to take over, only to rescind the invitation before he had even picked up a baton; the chorus had been on strike; and some productions were mediocre if not idiotic, Asian Dub Foundation's Gaddafi being the lowest of low points.
Yet the company turned itself around with the arrival of Edward Gardner, the youthful, dashing, visionary music director, in 2007. Under Gardner, ENO is doing exactly what it should be doing: courting controversy with 20th- and 21st-century operas, such as György Ligeti's Le Grand Macabre, and annoying the old guard with inventive stagings of old classics, such as Rupert Goold's Turandot.
Scottish Opera's woes were the worst of any British company. The whole enterprise almost collapsed in 2005, when all its full-scale productions were cancelled for a season. But under Alex Reedijk, their general director for the last three years, they've wrested back an identity and sense of purpose from what looked like financial oblivion. Meanwhile, Opera North and Welsh National Opera have enjoyed relative prosperity and artistic consolidation: WNO moved to a new home in the Wales Millennium Centre in 2004, while Opera North unveiled a renovated Grand Theatre in Leeds at the start of this year.
The big story, orchestrally, was Simon Rattle becoming chief conductor of the Berlin Philharmonic in 2002. Since then, our man in Berlin has had to endure a torrid time with the World's Greatest Orchestra™. After a honeymoon that lasted, oh, all of a few months, Rattle came in for criticism for his way with the core symphonic repertoires of Beethoven, Brahms and Bruckner. But Rattle now has the wilful Berliners pointing in the same direction, having had his contract extended to 2018.
And there's no question that – with the education work Rattle has spearheaded in Berlin, the contemporary repertoire he's introduced, and recordings like such as recent Brahms symphony cycle – the partnership is one of the healthiest in the business. Then there's the Digital Concert Hall: the most successful orchestral live-streaming project on the web. It's a sign of the times that the world's most tradition-bound ensemble is now a web trailblazer, opening up the hallowed halls of Berlin's Philharmonie to an infinitely wider audience.
Not that British orchestras have been slouches. Set up in 2000, LSO Live, the London Symphony Orchestra's in-house record label, is the first and best of its kind in the UK. Its recordings are world-class and manage to turn a profit despite being very affordable.
In Britain's concert halls, things changed for the better. For the first time in a generation, there's hardly a weak link in any of the relationships between the maestros and their orchestras: the City of Birmingham Symphony Orchestra under Sakari Oramo and now Andris Nelsons; the Bournemouth Symphony Orchestra with Kirill Karabits; the Hallé with Mark Elder; the Royal Liverpool Philharmonic with Vasily Petrenko; the Northern Sinfonia with Thomas Zehetmair.
Dudamel's transcendental prom
Still, the biggest orchestral happenings have been overseas. The most scintillating playing came courtesy of the Lucerne Festival Orchestra, set up by Claudio Abbado in 2003, as an annual get-together; its Mahler cycle has set new standards for insight and intensity. Elsewhere, there's the greatest classical music phenomenon for decades: Venezuela's El Sistema, which uses music as an instrument of social change, transforming the lives of thousands of young people, lifting them out of poverty, giving them hope – as well as demonstrating that classical music needn't be the preserve of a social elite.
It was only late in the noughties that El Sistema came to prominence in this country, thanks to the conducting virtuosity of Gustavo Dudamel and the brilliance of the Símon Bolívar Youth Orchestra, El Sistema's flagship band. Their Prom in 2007 was the event of the decade in this country: a gig that transcended all the usual boundaries of a classical concert, such was the interest generated by the story behind the orchestra, and the commitment of its players. Even the government took notice, setting up pilot El Sistema projects in Scotland and England, and giving music education a ring-fenced budget on a scale unknown for decades.
What of the next 10 years? Big challenges lie ahead. Record companies have had it tough in the classical sector, trying to find a way to go online but stay in profit (although smaller independents like Chandos and Hyperion have pulled it off); there are major questions about how music education will survive grim budget cuts and a possible Conservative government; and every orchestra, opera house and promoter will have to fight for funding from the public and private sector as never before. But there is hope. Classical music fans have never been so well served – both online and in the concert hall. Thanks to the imagination and energy of a new generation of performers and composers, the teenies could be better still.

Tom Service | December 8, 2009
Weblink: www.guardian.co.uk/culture/2009/dec/08/review-of-the-decade-classical