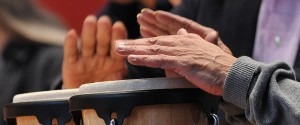 A study conducted by the Royal College of Music provides further evidence of the positive effect of music on mental health.

A ten-week programme of group drumming was found to reduce depression by as much as 38% and anxiety by 20%, and improve social resilience by 23% and mental wellbeing by 16%. The benefits were still evident three months later.
The research was carried out among 76 mental health users in London across two studies. Individuals took part in six- and ten-week programmes of group drumming workshops led by a professional drummer and supported by students from the RCM before completing questionnaires measuring depression, anxiety, stress and mental wellbeing. Full story.
Rhinegold Publishing / March 21, 2016

Weblink : http://www.rhinegold.co.uk/
Photo credit : http://www.rhinegold.co.uk/