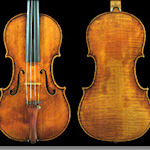 IN THE rarified world of old violins, the Stradivarius is commonly thought to be the very best. But for many connoisseurs and concert performers, the pinnacle is the work of a craftsman from Cremona in Italy known as Guarneri del Gesu.


One of the last violins to be created by the master, the Vieuxtemps Guarneri, made in 1741, three years before his death, is for sale in Chicago. If it achieves the asking price of $US18 million ($21.4 million) it will become the world's most expensive musical instrument.
Described as the Mona Lisa of violins, it has been played around the world by some of the greatest violinists.
It is named after Henri Vieuxtemps, the 19th-century musician who composed solo pieces for violin which he performed using it.
More recently it has been played by Yehudi Menuhin, Itzhak Perlman and Pinchas Zukerman.
The violin is owned by a retired British financier and music philanthropist, Ian Stoutzker. It is being sold by one of the world's leading traders in rare violins, Bein & Fushi of Chicago.
Geoffrey Fushi says it is one of Guarneri's most unusual instruments. It is larger than most, with enormous projection.
"I believe it is a living entity, a living being," Fushi says. "Musicians say the same thing, that the instrument dictates to them how they play the music."
Peter Quint, a soloist, has performed on the Vieuxtemps several times with the Chicago Symphony Orchestra.
"This instrument has the most unbelievable power, not just in loudness but in sound quality. It has a huge palette of colours that allow you to express a wider range of emotions."
Bartolomeo Giuseppe Guarneri died in 1744 aged 46, and only about 140 of his violins survive. One of them, a 1743 Carrodus, is played by the Australian Chamber Orchestra leader, Richard Tognetti, after an anonymous donor bought it in 2007 for about $10 million.
Bein & Fushi's price has raised eyebrows in the historic instrument market. Last October another Guarneri, the Kochanski, sold for $US10 million.
Most observers expect the Vieuxtemps to go to a museum or hedge fund or other institutional collector, as the days in which individuals and players could afford a Guarneri are long past. Fushi says he has received expressions of interest from all over the world.


Ed Pilkington | July 7, 2010
Weblink: http://www.smh.com.au/
Photo credit: http://www.classical.net/