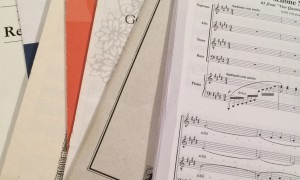 Congratulations! You've now been told for the millionth time to practice your music for your next choir rehearsal. But if you are someone who hears that and thinks, "I don't play piano. I can't do this without someone helping me," here are some ways you can practice on your own and improve your singing.

Grab your music and a pencil. Many of these steps can be done in a public place. No need to head to the practice room (stop using that as an excuse).
1. Start with the text. Make sure you know what you are singing. Think about the text. Find a translation if it is in another language. Write the poetic translation above/below the lyrics. If you want to go deeper, use a translation site to translate word for word (especially if there's a word that you sing over and over again. You should know what that specific word means). Do you know who wrote the lyrics and why? Can you put the piece into historical context? Full story.
Doreen Fryling / September 15, 2015

Weblink : http://doreenfryling.org/
Photo credit : http://doreenfryling.org/