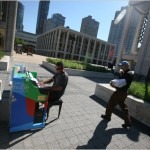 "Chopsticks" or Chopin?
Actually, both, played on an eye-popper of a piano next to the Metropolitan Opera House.

Monday was the first day on which 60 pianos could be played on street corners and in parks around the city as part of a public art project called "Play Me, I'm Yours." There were double-takes as people walked by: A piano? Anyone can sit down and play anything?
What happened next was like the famous 1920s ad come to life: "They all laughed when I sat down at the piano — but when I started to play!"
In Damrosch Park, steps from the Met, Kate Beck, a textile designer from New Orleans, played "Chopsticks." Rene Taylor, whose apartment in a nearby high-rise looks down on the upright they were playing, ran through the Chopin.
"The Prelude, Op. 28, No. 7," she said.
She also played "The Entertainer," the Scott Joplin rag that served as the main theme in the 1973 film "The Sting," and "Moon River" from "Breakfast at Tiffany's."
Ms. Taylor had a mission. "I'm checking my piano," she explained.
She had volunteered to look after the piano in Damrosch Park and three others at Lincoln Center during the two-week run of "Play Me, I'm Yours." That means unlocking them at 9 a.m. and locking them at 8 p.m., and covering them with plastic tarps if it starts to rain.
Other volunteers have been enlisted to keep an eye on each of the pianos around the city — 36 in Manhattan, 10 in Brooklyn, 4 in the Bronx, 6 in Queens and 4 on Staten Island. Sing for Hope, the New York-based charity that imported "Play Me, I'm Yours" from Britain, says the pianos will stay put: They are anchored by cables to fences or to cinder blocks. Even a piano mover would have a hard time making off with one.
Sing for Hope had an unlocking ceremony at 9 a.m. in Times Square, where a piano is at 42nd Street and Broadway, just below a walk-don't walk sign. There was a concert that began with "I Love a Piano." Alexander Long, who recently graduated from New Rochelle High School, accompanied two singers, Jaela Cheeks-Lomax and Samantha Bogle.
Then Luke Jerram, the British artist who dreamed up "Play Me, I'm Yours," sat down at the keyboard. A woman in the crowd said he had told her he plays everything in the key of C so he can look up at the cameras — no sharps or flats to complicate things. He said that was not the real reason he stuck to C.
"I don't read music," he said.
He said the brainstorm for "Play Me, I'm Yours" had hit while he was in a launderette in his hometown, Bristol, England. "I was going there with my underwear every week," he said. "No one was talking to each other. I thought, put a piano in there, it can act as a catalyst for conversation."
Or maybe more than chitchat. He said that two reporters who met over a piano during a "Play Me, I'm Yours" installation in Sydney, Australia, had married. He also said 160 pianos had been left out in the open in a handful of different cities for "Play Me, I'm Yours" and that only three had been "broken" — one of them in a park in Bristol.
Before Sing for Hope put the pianos out in the open in New York, it gave them a paint job—Sophie Matisse, whose great-grandfather was Henri Matisse, painted the four at Lincoln Center. Sing for Hope also put all 60 pianos into playable condition. The initial reviews were positive for instruments that will have to take a pounding and keep on playing in the kind of hot weather that pianos react badly to.
"It's in pretty good tune," said Jennifer Lee Snowden, a singer and songwriter who said she planned to play all the pianos in Manhattan before "Play Me, I'm Yours" ends on July 5. "It doesn't have the big sound of a grand, but the old uprights — they're not perfect, and neither are we."
James Barron | June 21, 2010
Weblink: cityroom.blogs.nytimes.com