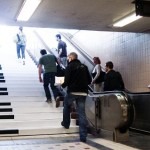 Apart from the fighting fit, most of us struggle taking the stairs during the morning commute to work… especially if there is an escalator right next to them.
Now Volkswagen has come up with a nifty way of encouraging people to exercise more… by making climbing the stairs a note-worthy experience.
Overnight, a team transformed the stairs leading out of the Odenplan subway in Stockholm, Sweden, into a giant functioning piano keyboard – much like the piano made famous in the Tom Hanks movie Big. Applying pressure on each step played a musical note.
Commuters soon opted for the intriguing new stairway and enjoyed making musical movements as they ascended up and down the scale.
The car company found 66 per cent more people than normal chose the musical stairs over the escalator.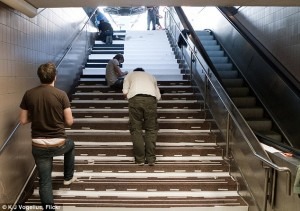 Workers pitch in to create the music making stairs
A video of the innovation has since become an internet hit, as the concept resonated with thousands of web users. A number of people have posted their own videos on YouTube showing their attempts to become top-flight musicians.
'Fun can obviously change behaviour for the better,' a spokesman said.
'We call this the fun theory.'
Volkswagen will soon be launching a website called thefuntheory.com, which will show various ways they have attempted to change their behaviour for the better. Presumably this won't include driving less.
Watch the music video here…
Claire Bates | October 12, 2009
Weblink: www.dailymail.co.uk/sciencetech/article-1218944/Scaling-new-heights-Piano-stairway-encourages-commuters-ditch-escalators.html