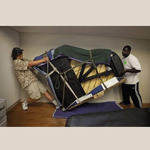 Tom Hutchinson started moving pianos when he was just out of college. He's climbed rotting staircases, suffered bruises and bashed fingers, and delivered everything from beat-up boxes to Baldwins, Steinways and a gilt-trimmed 1840s Erard.


Hutchinson, 50, started his business, the Piano Movers, in 1990. He lives in Oakland with his wife, Elizabeth, a substitute schoolteacher. They have a daughter, 24, and three sons, ages 20, 17 and 11.
I'm so tired of people asking me, "Do you ever drop a piano?" No, I've never dropped one. Sometimes I'll say, "Do you ask your doctor if he's ever killed anybody on the operating table?" I take it personally.
The other one I get is, "Have you ever seen the Laurel & Hardy movie about the piano movers ("The Music Box")?" Yes, I have. Once I was in a bar and this guy asks, "What do you do?" "I'm a piano mover." He says, "Oh yeah? You ever see Haurel and Lordy?"
I got into moving pianos when I took some time off from college. Got a job with a furniture-moving company and met this guy, my age, who'd just come from Boston. He was moving pianos and he showed me how.
I started my own business with a pickup truck. Walked into every piano store, holding my dolly and a pad, told them I was the greatest thing since sliced bread. I got enough work to live on.
I can move a piano by myself if I have to. There are guys who do it. But it's just not worth it. The average piano weighs 450 to 500 pounds, but a 9-foot concert grand can weigh 1,300 pounds. "Come into the world alone, leave it alone, but I'm not working alone." That's my motto.
I charge a flat rate and then $3 per step. I have a receipt from the 1950s I found inside a piano, where it was $25 for the delivery and $3 per flight. There are 12 to 18 steps per flight, usually 15.
I'm 6 feet 8 and weigh 270. The guy I've worked with the last eight years, Shumar, is 6 feet 2 and 280 pounds. A lot of the job isn't lifting. A lot of times we lay a large board across the steps and slide the piano, push it up.
Two people can pick up more than twice as much what one person can pick up. There are times, with a three- or four-floor walk-up in the city, when you get pretty tired. But if you know what you're doing, you're not really picking up the piano all the time.
You know when you lean back on your dining chair and balance it? That's the balance point, where the weight is distributed evenly. Well, every piano has a balance point. If you get in a staircase and there's a turn, you just go to balance point and stop. Put your feet back in line, then pick it, maybe six or seven times, around the turn.
Everybody says it's like a dance. A weird dance.
We never had a collapsing staircase, but one time an exterior staircase fell away from the building by about a foot. It was in the Mission. We're about three-quarters of the way up the staircase and it starts to go, "Krrrhhhrrrakkk." If Shumar lets go and runs, it's gonna crash. If I let go and run, it's gonna take him out.
So the whole staircase tilts and separates. We had three or four steps to go. I said, "Let's go for it. Get it up on the deck and see what happens." We made it. You couldn't tell by looking at it, but it had rotted. The bolts weren't attached anymore.
The best part of the job? I like to walk in people's houses, see how people live. Now we have the "Hoarders" TV show, but before no one ever believed me. You walk in, and there's this crazy guy who plays piano. Cats and garbage everywhere. Each delivery is its own story, its own drama.
And then everybody's kid is a little Mozart. Sometimes you have to stand there and listen to Johnnie or Sally play "Für Elise" while they write you the check.
I've had people crying. They're selling the family piano. They played it as a child. But no one plays anymore, or they're too old, or they're moving to a retirement home – that kind of thing. They have strong attachments. You know, the piano is meant to be an heirloom, to be in the family forever.


Edward Guthmann | May 17, 2010
Weblink: http://www.sfgate.com/