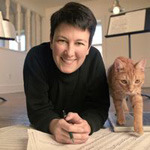 The delight and surprise that followed composer Jennifer Higdon's Pulitzer Prize win April 12 have reached beyond the artistic community to a wider public: We love tangible evidence that Philadelphia originates the better things in life, as well as importing them.


In the media, Higdon, 47, seems to be everywhere, charming interviewers and the public all over again with her fun, unaffected manner, Tennessee accent, and slow rise in the music world from a concert-band flutist to graduate work at the University of Pennsylvania and the Curtis Institute of Music, where she's now on the faculty.
"Is this a first for Philadelphia composers?" some ask. Hardly. Philadelphia has regularly exported important new music – some that won the Pulitzer, and a lot that deserved to – usually in spurts. The prevalence of educational institutions, enlightened philanthropy, and a relatively low cost of living among Northeastern cities has made this a place where composers can try out all sorts of things and not worry too much about consequences.
The 1940s had the emergence of Samuel Barber, Leonard Bernstein, and Gian Carlo Menotti, all from the Curtis Institute. The 1970s were dominated by University of Pennsylvania triumvirate George Rochberg, George Crumb, and Richard Wernick.
Now, a more dispersed but no-less-interesting generation has emerged: The Philadelphia composers who have had high-profile premieres in major cities are all affiliated with different educational institutions or schools of composition. And three of the four are women.
The specifics:
Philadelphia-born, Montgomeryville-raised Julia Wolfe was two steps behind Higdon in this year's Pulitzer finalists with Steel Hammer, a Carnegie Hall commission late last year that consolidated her reputation as a radical minimalist, long nurtured by the Bang on a Can Festival.
Penn faculty member James Primosch had an up-to-the-minute meeting of artistic minds with Princeton-based poet Susan Stewart, whose Songs for Adam, published in 2008, was heard in late 2009 in a Chicago Symphony Orchestra-commissioned song cycle of the same title.
Higdon's new Piano Concerto, premiered in December by Washington's National Symphony Orchestra, in fact predates the Pulitzer-winning Violin Concerto. It was to be premiered by Lang Lang, who canceled; it was rescheduled with Yuja Wang.
In February, University of the Arts faculty member Andrea Clearfield had a major chamber music premiere at New York's Morgan Library, . . . and low to the lake falls home, performed by Carol Wincenc, Cynthia Phelps, and Nancy Allen.
It so happens that, with the exception of Higdon's concertos, none of the pieces was a typical specimen from its respective output. Though Clearfield is known to write big works with a strong social conscience, this one is the soul of congeniality, seeming to seize upon the most sensually attractive of Debussy's final three chamber works, the Sonata for Viola, Flute and Harp, and expanding its basic idea with a more war-weary awareness of subsequent history – manifested not in dissonance, but in an intense counterpoint of musical ideas and interaction among the instruments.
Higdon's piano concerto has a strong family resemblance to her violin concerto: Both have moments in which the thematic development hits giddy, antic heights, as well as orchestral passages with playful, seesawing, parallel harmonies in the orchestra. Higdon often ambushes listeners with some unexpected timbre, and in the piano work, that moment comes at the beginning of the third movement – in what is probably the only case of a percussion cadenza in a piano concerto. You could tell what she had been listening to before writing the piece – some Prokofiev, Ravel, and especially the gorgeous, seldom-heard Tippett Piano Concerto – but these feel more like precedents than antecedents. It's all Higdon.
In contrast: If there's anything out there like Primosch's Songs of Adam, I haven't heard it – though the music wears its singularity lightly, with no need to express itself radically. It has a confidence of expression that comes of Primosch's having written a steady stream of song cycles since the late 1990s. Composers are still drawing legitimate inspiration from poets of the increasingly distant past, such as Walt Whitman, but Primosch pushes both himself and thus his listeners onto new ground with Susan Stewart's verse, which are called songs in their printed version because they suggest music, especially in the first poem, in which Adam is stuttering his way into existence.
Both poet and composer share an ability to contemplate how basic elements of existence might feel for the first time, and the duo know how to capture that in their respectively cultivated vocabularies, with an emotional rightness that never becomes too analytical.
In fact, Primosch enters the Korngold zone when describing Adam's intoxication with the word. Though words are set dramatically and in ways that are well written for the voice, the best moments are in the masterly orchestration, which gives an extra percussive spark to moments of discovery and unflinchingly confronts the agony of Adam's expulsion from Eden.
The pale strings capture his disappointment in the real world in an overall dramatic arc that's almost epic, going from the unimaginable (the beauty of Eden) to the unthinkable (the world's first children, Abel and Cain, and the world's first fratricide).
If it's possible for a piece to be folksy and radical at the same time, that piece is Wolfe's Steel Hammer. The subject is the mythical John Henry, the railroad man who claimed he could outwork any machine. Wolfe's scoring included folk instruments, but the most musical information by far was handled by Trio Mediaeval, the pitch-perfect female threesome from Norway, who effortlessly navigated Wolfe's unceasing, often-astounding level of invention.
Her minimalist manner isn't the world's greatest means of storytelling. Luckily, she finds enough places in the story that can bear examination as set pieces; it's in those places that Steel Hammer casts a powerful spell, often using the rhythmic regularity and vocal counterpoint to convey a sense of relentless propulsion, both in the literal locomotive sense, but also in mankind's drive to push forward at any cost.
Stand back from these four composers, and the plurality of compositional voices isn't just impressive, it's cool. But as easy as it can be to lump the previous generations under catch-all headings such as neo-romantics and modernists, none of them were anything alike either.

David Patrick Stearns | May 2, 2010
Weblink: http://www.philly.com/