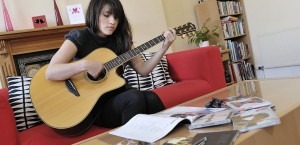 What drives people to pour hours into making perfectly timed plinking noises with simple brass and stringed instruments?

There's no easy answer. For decades, researchers have studied what drives certain individuals to spend so much time making and thinking about music. What they've found is nothing short of incredible: The minds of musicians and non-musicians are not the same.
Musicians share a number of personality traits that guide them through the difficult work of translating human experiences into a series of otherwise meaningless melodies. Here are some of the ways they are different from everyone else… Full story.
Tom Barnes (Music. Mic) / August 18, 2015

Weblink : http://mic.com/
Photo credit : http://mic.com/