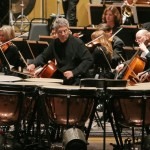 When Jonathan Haas set out to pursue a career as a solo percussionist 30 years ago, he knew he was in for a struggle. At Juilliard, he was at first barred from giving a recital—a requirement for students of any other instrument—on the grounds that there was not enough repertoire.
After graduation, his application to the Martha Baird Rockefeller Foundation to fund a recital at Carnegie Hall was disqualified because, he was told, his was not a musical instrument. Mr. Haas confronted the foundation's president, listing the works by Samuel Barber, Steve Reich and Karl-Heinz Stockhausen he was planning to play. He eventually won the grant, but only after giving a demonstration in front of a panel of experts brought in to determine whether the noise he produced with his drumsticks and mallets was, in fact, music.
Today, Mr. Haas presides over the "percussion penthouse" at New York University, a sprawling loft filled with $150,000 in equipment—including drums, gongs, cymbals, marimbas, xylophones, a full set of steel drums, and the world's largest timpani, which Mr. Haas built out of a 100-year-old 6-foot-wide copper kettle once used to churn cheese. His students, and their fellow percussionists at conservatories all over the country, are now routinely required to give recitals. For inspiration they can look to percussionists such as Evelyn Glennie and Colin Currie, who have thriving solo careers fueled by a growing repertoire of pieces written for them by new and established composers. Solo percussion music appears on concert calendars across the country, drawing large, enthusiastic audiences.
When Ms. Glennie grew up in rural Scotland in the 1970s, she assumed the world was full of percussionists. Encouraged by a teacher who, as she recalls, treated his students first as musicians, and then as players of a particular instrument, "it was perfectly natural to stand up and give a percussion recital. It was only when I became a full-time student at the Royal Academy of Music in London that the boundaries appeared and bridges had to be crossed and people said 'well, it isn't possible to be a solo percussionist, there isn't anything to play!'"
To generate new pieces, Ms. Glennie sifted through the directory of British composers and wrote hundreds of letters asking for new works. "I received various replies, from 'yes' to 'yes, my fee is. . .' to 'no, I'm too busy,'" she says. "And gradually the repertoire changed from arrangements and transcriptions to a body of my own pieces."
Mr. Haas, meanwhile, commissioned a concerto for timpani from Philip Glass—a process that once again required determination due to the composer's reluctance to write for such an unusual solo instrument. The resulting "Concerto Fantasy for Two Timpanists," however, has become one of Mr. Glass's most popular pieces, performed more than 50 times with orchestras all over the world.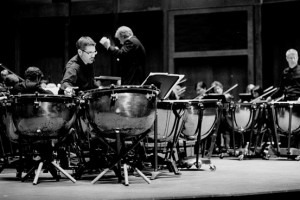 Part of the appeal of percussion music is visual. The Glass concerto has 14 timpani lined up at the front of the stage—an effect that, to the front rows of an audience, can feel a little like staring up close at heavy artillery. In pieces for mixed percussion, the number and variety of instruments can be formidable. In addition to drawing on the traditional components of a symphony orchestra's percussion section, composers are employing ethnic drums from Africa and Asia as well as "found instruments"—objects that, when struck, resonate in a way that can be explored musically.
Brake drums—car-brake disks of varying sizes usually struck with hammers—have become so popular with contemporary composers that Mr. Haas estimates there are now up to 200 orchestral pieces featuring them. Ms. Glennie has developed an instrument she calls the batonka, consisting of two octaves of tuned PVC piping, which she will occasionally ask composers to include in their works. Tan Dun's "Concerto for Water Percussion" uses miked-up bowls of water that the player must by turn strike, slap or stir.
At the same time, there is the uniquely athletic—and often theatrical—aspect of percussion performance. Mr. Haas recalls a formative encounter with Stomu Yamashta in the late 1960s in which the Japanese percussionist would strike gongs with martial-arts kicks. Many composers exploit the spatial aspect involved in negotiating a large number of instruments to dramatic effect, or add lighting as in the case of Mr. Tan's concerto. "The visuals are inescapable, but it must never be histrionic," warns Mr. Currie, who adds that his "tenet has always been to get percussion away from the circus act."
And yet the extramusical elements may be the reason percussion music is so popular with audiences, and often draws crowds that are substantially younger than average. Sometimes it bridges the divide between classical music and rock: Mr. Yamashta remains an icon in alternative rock circles; a percussion concerto by Stewart Copeland, the former drummer of The Police, will be given its premiere next year by the Dallas Symphony Orchestra. Perhaps most intriguing is the fact that percussion music is in such demand despite its association with contemporary music—usually considered toxic for ticket sales.
"I think that concert presenters still scratch their heads and don't understand why this phenomenon is occurring," says Mr. Haas. "They don't want to recognize the fact that drums, which not so long ago were considered to not be a concert instrument, have now taken over as the predominant attraction of new audiences.
"In other non-European, non-Western cultures drumming is not only the center of the creative and musical process, but the spiritual core of the whole culture. In our culture, drums have been seen as something that sits in the back and goes boom-boom-boom. So we're really just catching up."
Corinna Da Fonseca-Wollheim | November 20, 2009
Weblink: online.wsj.com/article/SB10001424052748704013004574517973664719790.html