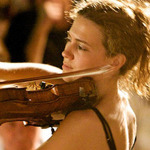 You're at a farmer's market, looking for that elusive perfect tomato, when suddenly people around you burst into song. No, it's not a particularly vocal group of produce vendors. It's a new trend in classical music: spontaneous performances in public places, or flash concerts.






Viewers have clicked on this market performance by the Opera Company Of Philadelphia more than 3 million times since it went up in April. (It's the drinking song from Verdi's La Traviata.)
Over the past year, an increasing number of classical musicians have been launching into unannounced performances in marketplaces and transit hubs — and videos of these impromptu concerts have reached a wide audience on the internet.
So what drives musicians to do this? At the heart of it is the pure satisfaction of making mischief and surprising people. But for most artists, the goal is to bring classical music to people who wouldn't otherwise hear it. Sometimes, as in the case of the video above, it's to promote an "official" performance. Other times, there's no profit involved, and musicians just want to reignite the spirit of fun and improvisation that was behind the music in the first place.
The video below is by the Cobweb Orchestra, an amateur ensemble that holds weekly rehearsals in seven places across Northern England. Anyone can join and rehearse with the group. Here, they bring Ravel's 'Bolero' to a bus terminal and shopping center.
Andy Jackson, the conductor of the Cobweb Orchestra, said the audience may have been a little confused, but their response was positive.
"We were quite surprised by what happened when we'd finished," he wrote to me in an e-mail. "A large crowd had gathered, and they applauded enthusiastically as though the performance had been a conventional one. They also seemed to expect us to play more and asked for an encore. I suppose they were struggling to find a box to put the experience into, and decided that it was a sort-of concert."
Jackson also told me he was surprised by the video's success on the internet, and the appreciative messages that came in from around the world.
Spira Mirabilis, a Formigine, Italy-based ensemble, is made up of young musicians from around the world who specialize in performing in unexpected venues, including the street. Below, they perform Beethoven's 2nd Symphony in a square in Florence, complete with a motor scooter.
Timoti Fregni, a violinist and co-founder of the group, thinks music is a powerful channel for communication.
"I find classical music concerts are often very static," Fregni says, "and this is what we try to fight in many ways with Spira."
The responses to Spira Mirabilis' various projects have been positive. But does performing at unexpected times and places really remove the detachment of the concert hall? Musicians are struggling to find a way to make music more accessible without dumbing it down.
Fregni acknowledges that flash performances of classical music take much more preparation than other flash events such as the International Pillow Fight Day, where all one has to do to participate is bring and sling a pillow.
"It makes sense to play in the streets," he says, "as long as we prepare ourselves as well as we would to perform in Carnegie Hall — possibly even better, because we're presenting something people don't know, something we love, and it has to be as beautiful as possible."
People have long been saying that the culture of classical music needs an overhaul. And flash concerts could be one exciting way to achieve that.
Long after the crowds disperse, these performances continue to reach people on the internet. One 2009 video from Spain has garnered more than four million hits. Is this going to bring a whole new crowd of people to classical music? What do you think?


Ashalen Sims | November 10, 2010


Weblink: http://www.npr.org/