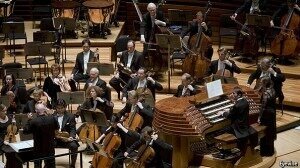 AS a teenager, Nathan Laube dreamt of a church-music career in the "great Anglican tradition", as he puts it. But today, aged 25, the Chicago-born organ virtuoso is instead pursuing a career as a recitalist and teacher.

That is a wise choice. For generations, the Episcopal (Anglican) church has been the steward of traditional music in America—and so the main employer of talented organists. But today the church is in steep decline. It has nearly 2m members now, down from 3.4m at its peak in 1959. Though some congregations are growing, between 2000 and 2010 the denomination lost 16% of its members and 23% of its regular worshippers.
At the same time, America's conservatories are turning out exceptionally capable organists. "The standard of organ playing in the US is higher than it has ever been in history," says Paul Jacobs, chair of the organ department at the Juilliard School in New York. "Perhaps there are not quite as many students as there were, say, 50 years ago, but the quality is remarkably higher."
Mr Jacobs sees a future for organists in "the broader realm of classical music." He is in a good position to know. Now considered America's leading organ performer, he won the first-ever Grammy awarded to an organist in 2010. He is currently recording an album with Christine Brewer, a Wagnerian prima donna.
Indeed, many young organists are venturing beyond the church organ loft. And there is increasingly more work for organ musicians on the secular stage. Several important concert halls, including the Walt Disney Concert Hall in Los Angeles, the Kennedy Centre in Washington, DC, and the Kimmel Centre in Philadelphia, have either installed new organs or upgraded existing ones in recent years. And in New York the Alice Tully Hall has reinstalled its organ.
"There is a certain amount of orchestral repertoire that calls for an organ, but we wanted to have an organ subscription recital series as well," says Chad Smith at the Disney Hall (where the organ was designed by Frank Gehry). "Obviously most of the music comes from the church tradition, but we also think of the organ as a contemporary instrument, which is why we commission many new pieces," he adds.
"Virtually every hall in Great Britain, Europe, Australia, Japan, and increasingly even in China, has a pipe organ," adds Michael Barone, curator of the Kimmel Centre's organ series and host of the popular radio program Pipedreams, which focuses on organ music. "Any reasonable concert hall should be equipped to deal with this music."
And there is an appreciative audience, says Isabelle Demers, a recent Juilliard graduate pursuing a recital career. "I play transcriptions of orchestral pieces for the organ," she says. "People love it when they recognise a passage." For sheer athleticism, organ performances are hard to beat. No other instrument, after all, features all four limbs in constant action.
Mr Laube has enjoyed a similarly enthusiastic response. Having recently recorded an organ concerto live with the Nashville Symphony Orchestra, he notes: "It was amazing to see a full house of symphony-goers jump up after what must have been for many a first exposure to the instrument in a concerto role."
But even the most talented, enterprising young organist will have a hard time surviving on recitals alone. Church jobs may not hold the promising future they once did, and good jobs may be increasingly rare, but they offer a welcome source of financial stability. Some performers, including Mr Laube and Ms Demers, have university posts. "It's the same thing as with all instrumentalists," explains Alan Lewis, president of the Association of Anglican Musicians, which represents most top American organists. "Many are very good, but few are great, and even fewer have the star-quality that makes for a viable concert-only career."
Even so, it should be encouraging that the organ is edging its way symphony orchestras and earning more attention from music reviewers.
"I should have thought to myself, why are you entering this profession that nobody cares about?" says Mr Laube. But he sees reason to be optimistic. "Many young organists are excellent ambassadors for the organ."
E.H.B. (The Economist) / November 1, 2013

Weblink : http://www.economist.com/
Photo credit : http://www.economist.com/