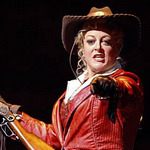 Puccini works well as a spaghetti western, writes Joyce Morgan.


High above Thredbo, a lone figure splattered blood across the snow.
Away from prying eyes, filmmaker Scott Otto Anderson was simulating the aftermath of a shooting – with a couple of litres of stage blood.
Eventually the pristine snow was stained pink for metres around him and Anderson paused to admire his bloodbath. Suddenly, he had company.
"Some cross-country skiers zipped by and waved nervously," he says. They didn't stop to hear his improbable explanation: that he was working on a grand Italian opera set in America's wild west.
Puccini's rarely performed The Girl of the Golden West (La fanciulla del West) could well be the original spaghetti western, staged decades before the '60s-era genre of movies.
Movie-making was in its infancy when the Italian composer of La Boheme, Tosca and Madama Butterfly premiered in 1910 his opera set on the Californian goldfields.
Anderson has been working with the director Nigel Jamieson to create Opera Australia's new production, which is a homage to black-and-white early westerns.
As part of this Anderson has shot a "trailer" that runs during the overture. It does visually what the overture does musically – introduces the main themes.
"It's a one-minute-twenty summary of the drama, so there's a good man and a dark presence and they are fighting over this woman," he says. The dramatic staging uses film techniques to tell a story in which a young saloon operator, Minnie, lives surrounded by gold-diggers, cowboys, a menacing sheriff and a mysterious stranger.
Anderson and Jamieson use vast projections on all surfaces, including walls, ceiling and even up-ended saloon table tops, that are used to conjure images of men's missing loved ones.
They also play with perspective, whereby the stage appears so deep it extends almost to infinity.
"We're playing on surfaces so what you see in the foreground is seen on the walls in detail," says Jamieson. "So when there's a gunfight at the front of the stage and the gun gets shot out of the guy's hand, you see it as it passes in the air in slow motion on one wall."
The first act is staged almost entirely in black and white, including the costumes. Only Minnie brings colour into this harsh male world.
Jamieson read letters written during the gold rush that described the isolation of the harsh environment. "We read one where a woman wrote how back home in Maryland she had been considered excessively plain," he says. "But in 1851, when there were virtually no women on the goldfields, men would walk 24 hours just to look at her then turn around and go back."
The Girl of the Golden West began as a stage show, which Puccini saw in New York in 1908. So too did Cecil B. De Mille, who turned it into a silent movie. By 1939 five movies had been made of it. As the mythic tale impressed itself on early western films, so too did Puccini's music.
"You hear Puccini and you realise that every western that was to follow was influenced by him," says Jamieson.
It is the third time the pair have worked together. Anderson created the film work for Jamieson's acclaimed productions of Honour Bound, about the Guantanamo detainee David Hicks, and the opera Dead Man Walking. They are collaborating on a production by the Chooky Dancers to be staged at the Opera House in September. Wrong Skin will use high-tech projections to tell a traditional Romeo and Juliet story of teenagers breaking traditional marriage customs.
The technology has changed dramatically in the five years since Honour Bound.
"We're using 10 times the power here," says Jamieson. "'We would have struggled to have done this in 2005." The $700,000 production has been commissioned by the Opera Conference, and spreads costs across four opera companies.
Nonetheless, Jamieson firmly believes such an expensive artform must reach a broader audience and tell local stories to remain relevant. "If it doesn't attract a wide audience then frankly I think opera should shut up shop now," he says.
"We have to find a way of making it contemporary and accessible and exciting and not buried in our European past that makes us all feel cultured in some way to go along to see a nice old-fashioned production of Falstaff. Fine if people want to do that, but if we're going to subsidise it seriously as an art form it needs to meet the criterion of relevance to a wide audience … and create work that is about the experience of living in Australia.'
Opera is the ultimate meeting point of music, movement, vision and spectacle. "It's fantastic to have 150 people involved in a performance, but you've got to be damn sure of the reasons you're doing it."


Joyce Morgan | July 9, 2010
Weblink: http://www.smh.com.au/
Photo credit: http://articles.sfgate.com/