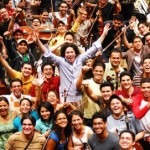 The conductor Claudio Abbado has called it "the most important project in the music world in our time." But only recently, as the meteoric rise of the conductor Gustavo Dudamel aroused curiosity about the unique environment within which his talents blossomed, has it attracted the widespread attention of music lovers.


Mr. Dudamel is a product of El Sistema, the far-flung instructional system in Venezuela that brings music to the lives of the country's youth. With over 350,000 instrumentalists and choristers scattered among 215 regional centers known as "núcleos," El Sistema is a program that people in other countries seeking better ways to interest young people in music look upon with wonder.
The numbers say it all about the program's breadth. But Mr. Dudamel, who three years ago, at the age of 26, was appointed music director of the Los Angeles Philharmonic, taking over last fall, is proof that El Sistema can also produce musicians of remarkable depth. With so many participants, you might think that Mr. Dudamel is not unique, and you would be right.
The Lucerne Easter Festival recently trained the spotlight on Diego Matheuz, 25, a protégé of Mr. Abbado, who last week conducted the Simón Bolívar Youth Orchestra of Venezuela, the ensemble that stands at the summit of El Sistema's organizational pyramid. No stranger to the Lucerne audience, Mr. Matheuz substituted for Mr. Abbado last summer at the general rehearsal of Mahler's Fourth Symphony on such short notice he didn't have time to change into concert attire for the public event. Engagements with Rome's Santa Cecilia Orchestra followed as a replacement for an indisposed Antonio Pappano, and last fall Mr. Matheuz was named principal guest conductor of Mr. Abbado's Orchestra Mozart based in Bologna.
Despite his closeness to Mr. Abbado, Mr. Matheuz said in an interview that his principal conducting teacher remains the legendary José Antonio Abreu, 70, who founded El Sistema in 1976. A year later it did so well at a youth orchestra festival in Aberdeen, Scotland, that the Venezuelan government began funding it. It has done so ever since through some 10 administrations of differing political persuasions. The current budget is around $80 million, of which 90 percent comes from the government.
By all accounts a man of immense organizational and motivational skills, Mr. Abreu is also an outstanding musician with an uncanny ability to pinpoint talent. Mr. Matheuz recalled the time he first expressed to Mr. Abreu an interest in conducting. "'Fine,' he said. 'Come back tomorrow and be prepared to conduct Tchaikovsky's Fifth Symphony.' The maestro has students conduct silently in lessons, then comments on technique and interpretation." Yet, since each "núcleo" has an average of three orchestras, opportunities abound for first-hand experience before an orchestra.
According to Eduardo Méndez, El Sistema's executive director, the organization is as much a social as a musical one and it emphasizes having fun. Mr. Matheuz said he was nine when he met Mr. Dudamel, four years his senior, and they became soccer buddies as well as a fellow musicians. Students come from all walks of life, but "for many underprivileged youths," Mr. Méndez said, "El Sistema is an alternative to drugs, street and gangs. They can compare their options — the street or us." Yet musical excellence is recognized as essential if students are to be inspired to participate fully.
El Sistema undoubtedly would have gained international recognition sooner were it not for setbacks involving prominent conductors. Eduardo Mata, a former conductor of the Dallas Symphony, took a strong interest in the Simón Bolívar Orchestra, recording commercially with it in the early 1990s, but was killed in a plane crash in 1995. Later, the orchestra caught the attention of Giuseppe Sinopoli; a tour with him was planned at the time of his death from a heart attack in 2001. Yet the Simón Bolívar Orchestra, with an age spread of roughly 17 to 25, has nevertheless become a first-rate ensemble, something readily apparent from its frequent tours under Mr. Dudamel.
Its players show boundless enthusiasm in all their concerts, but Mr. Matheuz's reading of Shostakovich's Tenth Symphony remarkably channeled that enthusiasm into a cogent interpretation in which moments of brooding intensity were just as convincing as high strung outbursts. He also proved to be an adroit accompanist in Beethoven's Violin Concerto, which profited from Kolja Blacher's masterful playing as soloist.
Another conductor to keep an eye on is Christian Vásquez, 25, who led the Simón Bolívar Orchestra in a family concert here. The program did not test his interpretive depth, but he showed a fine command of the orchestra and he too has the confidence of Mr. Abbado. He is represented, like Mr. Matheuz, by a top management firm and has concerts in the offing with major orchestras. Both conductors are currently Dudamel Fellows with the Los Angeles Philharmonic, with responsibilities for leading family concerts.
El Sistema's international profile can only be expected to grow as top-notch musicians increasingly take an interest in its operations and other countries attempt to import its methods. Plans are under consideration for the Simón Bolívar Orchestra to remain together as an ongoing ensemble, eventually dropping the word "Youth." A new showcase orchestra of younger players has been formed, the Teresa Carreño Youth Orchestra. And other emerging talents will surely receive charges from Mr. Abreu like that leveled at Mr. Vásquez: "In two weeks' time you will conduct Mahler's Second Symphony."

George Loomis | March 30, 2010
Weblink: nytimes.com
Photo credits: euroarts.com