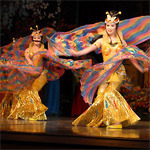 BEIJING — When the North Korean leader, Kim Jong-il, traveled to China by armored train in early May, his visit was so shrouded in secrecy that domestic and global media were forced to speculate on its duration, its purpose — even if it were really taking place.


By contrast, the Chinese tour of the North Korean Sea of Blood Opera Company, which Mr. Kim is credited with helping to establish and direct, has been met by a veritable media frenzy.
Photographs of the Sea of Blood's arrival on May 2 in the Chinese border town of Dandong were widely broadcast and became an Internet sensation. Chinese media followed the company almost paparazzi-style, reporting on its performers's demeanors ("lively and friendly"), favorite foods (pork and vermicelli stew and fresh fruit), and giving rave reviews to its operatic production of the classic Chinese novel "Dream of the Red Chamber" ("the biggest hit since 'Avatar."')
Audiences were equally enthusiastic. Tickets to the opera's initial four-day run in Beijing (which coincided with Mr. Kim's visit) sold out so fast that a second run was added for early July, this one at the opera house of the National Center for the Performing Arts. In between, the 198 members of Sea of Blood toured the country, filling theaters from Hohhot, Inner Mongolia, to Fuzhou, Fujian, with tickets in many cities sold out weeks in advance. Initially scheduled to last one month, the tour instead lasted two and a half, concluding in the northeastern city of Dalian on July 18.
When asked to explain their success during a moderated discussion with several hundred fans and journalists at the Beijing arts center, the Sea of Blood performers gave a simple answer: "We took the guidance and suggestions of our Dear Leader," they said, referring to Mr. Kim.
Indeed, it was Mr. Kim who decided to re-stage the opera in 2009 to commemorate the 60th anniversary of diplomatic ties between China and North Korea. (The original production was conceived by his father, Kim Il-sung, back in 1961; his contributions were also noted.) He reportedly attended it four times during its Pyongyang run, before it went on tour, including once with Prime Minister Wen Jiabao of China.
The role of opera impresario is not a new one to Mr. Kim. "Sea of Blood," in fact, is the name of a revolutionary opera that he is credited with helping to create in 1971. The opera — based on a novel attributed to his father about the brutal Japanese occupation of the peninsula — was deemed so successful that it became both the name of the company and of the style of revolutionary opera it pioneered.
Intended to "smash the old pattern of opera" and "humble" those who practiced it, as participants stated at the time, Sea of Blood-style operas incorporate traditional Korean melodies and dances with "revolutionary" elements intended to make opera more accessible. Librettos are written in verse, so they can be easily remembered and sung, and there is no recitative. The orchestra is patterned after the idea of "juche," or self-reliance, meaning that it mixes Korean instruments with Western ones. A background "pangchang" chorus sings from the pit to underscore the ideological and emotional states of the main characters.
Recently, Mr. Kim has been quoted as saying that the Korean people "should have a better understanding of world culture." So, in addition to the revival of "Dream of the Red Chamber" — which was reportedly performed 50 times for nearly 100,000 people in Pyongyang — he also oversaw a production of the Russian opera "Eugene Onegin." The Tchaikovsky classic, last performed in Pyongyang in the 1950s, was staged last summer and again this February to celebrate the 10th anniversary of the Russia-North Korea treaty of friendship and bilateral cooperation.
Mr. Kim's alleged contributions aside, the opera's runaway success in China starts with "The Dream of the Red Chamber" itself. Written by Cao Xueqin, the 18th-century novel is a touchstone of Chinese culture; anyone who hasn't read it — or seen the 83-episode TV version — is nonetheless as familiar with its tale of Jia Baoyu and Lin Daiyu's thwarted love as Westerners are with that of Romeo and Juliet. Another factor is the popularity of North Korean opera in China, which dates to the 1966-76 Cultural Revolution when China's own traditional theatrical forms were banned. Although North Korea's five revolutionary operas (now known as "global musical masterpieces") were almost certainly modeled on China's "revolutionary model operas," they were slightly less radical. Romantic love was permitted (Chinese model operas only acknowledged love between classes, not individuals), as were fantasy and magic (banned as superstitious in China), and class struggle was de-emphasized. The most popular of the North Korean operas was the "The Flower-Selling Girl" — which was performed by the Sea of Blood Opera Company and seen across China in its wide-screen film version in the early 1970s.
But, if these historical factors gave the Sea of Blood's version of "Dream of the Red Chamber" a lift, it was ultimately the quality of its production that enticed audiences around the country to go to hear a Chinese classic sung in Korean. While Sea of Blood-style opera may be an acquired taste, the production faithfully reproduced the tragic love story with high-quality singing, impeccable ensemble dancing, and lavish costumes and stage sets (largely provided by China's Ministry of Culture). Most of the performers are graduates of the Kim Won Gyun Conservatory in Pyongyang and the orchestra — under the baton of Seong In-duk — knew the score for the three-hour opera so well that its members did not use stand lights, playing from memory whenever the theater was dark.
The political impact of the Sea of Blood's 2010 Chinese tour is unclear. Kim Jong-il was expected to accompany President Hu Jintao of China to a performance while in Beijing, but did not. This caused some foreign media outlets to speculate that Mr. Kim was unhappy with his visit and in turn led the Chinese Communist Party newspaper People's Daily to cite reports that Mr. Kim had left Beijing for home without watching the opera "because his visit has met all the goals."
As a cultural exchange, however, the visit was seemingly an unqualified success — one that has led to some soul searching on the Chinese side. In the pages of Beijing Daily, the culture critic Li Hongyan bemoaned the fact that it took a North Korean opera company to remount a major production of a Chinese classic. "If our top directors can become famous worldwide for the Western opera 'Turandot,' why can't even one of them make a good opera of 'Dream of the Red Chamber?"' he wrote. "Is it because they ignore our traditional culture or because they just don't have the talent?"
The Sea of Blood performers, however, have no plans to rest on their laurels. Instead, they are returning to Pyongyang to begin rehearsals for a new production of another Chinese classic, "The Butterfly Lovers, " that will undoubtedly be brought on a China-wide tour as soon as it is ready.


Sheila Melvin | July 28, 2010
Weblink: http://www.nytimes.com/