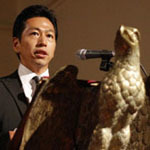 NEW YORK — A nongovernmental organization led by a New York-based Tokyo native is striving to use music as a means to improve the lives of people in trouble spots around the world.

Tomo Nomura, who recently organized a concert to raise funds for programs in Vietnam, calls music a unifying force.
"This concert is a continuation of our efforts to promote our 'Power of Muze' initiative globally, as well as a means to raise funds for our project in Da Nang," Nomura said at the piano concert that was held July 7 at the Church of All Nations in Manhattan. "I believe music has the power to generate hope and to heal."
As founder and president of the Human Security Association, which was formed in 2009 to encourage and empower people suffering in hot spots worldwide, Nomura has been influenced by his own connection to music.
The initiative's name, Power of Muze, is based on a belief in the unifying power of music to inspire and generate hope, and uses a term coined from the words music and muse.
For more than 15 years as a member of the New York Men's Choir, Nomura witnessed how songs lifted the spirits of the sickest patients at a New Jersey hospital where his group sang Christmas carols each year.
Called "Power of Muze: Making a Wish for a Peaceful World," the New York church event was geared to raise money to benefit Da Nang's citizens by exposing them to more music.
The city suffered a great deal during the Vietnam War. Agent Orange and other defoliants were used heavily in Vietnam, and the impact is still felt today.
An estimated 2 million to 4 million people have been exposed to the agents. Approximately 200,000 people, including children, still have mental and physical ailments.
Through the New York event, Nomura's organization collected money to send pianos and other instruments to the major port city in central Vietnam.
In addition to a grand piano earmarked for use at Da Nang City Hall, Nomura said two upright pianos are to be donated to a hospital and a rehabilitation center.
Nomura was struck after learning the city's one grand piano is only played at a resort hotel for its guests and not for the larger population.
At the New York performance, American composer and pianist Quentin Fielding played 10 songs, including "Tanabata Song" to celebrate the Japanese star festival that fell on the same day.
The 22-year-old Fielding was first approached by Nomura's staff after a charity performance last year. He said he was impressed by the group's efforts to promote music, which is his greatest passion.
Bui The Giang, Vietnam's deputy ambassador to the United Nations, and Thuy Diep, a New York-based fashion designer who donated items to help raise money at a raffle, were among the audience.
"The sound of music can subdue the sound of war," the Vietnamese envoy said in his speech. As a former soldier he remembered how music helped him and others during tough times, he said, and believes his countrymen and women will benefit from exposure to more music.
Meanwhile, Kazuo Tase, chief of the Human Security Unit at the U.N. Office for the Coordination of Humanitarian Affairs, praised the organization's aims to advance the human security concept on a local scale.
"Human security is not only about physical security, but also the feeling of security and mental healthiness," he said. "Music could be a very good entry point," he added, noting how it brings people together and instills in them a "real sense of security."
The church concert was the second put on by the organization. The first took place in February at Carnegie Hall, where it was attended by U.N. officials and diplomats, among others.
The Human Security Association is preparing to host a concert in Da Nang on Aug. 29 using the donated instruments to mark the launch of its Vietnam program.
Nomura came to New York in 1994 and has since set ambitious goals for himself, both local and international.
In addition to his work in Vietnam, some of his board members are already active in Africa and the Balkans.
He is even thinking about staging a concert in 2014 in Sarajevo to mark the centenary of the start of World War I.
"Music is universal and music tries to unify people because it is a common language," Nomura said. "That is why I thought I could help the human security activities or issues through music."
Seana K. Magee | July 20, 2010
Weblink: http://search.japantimes.co.jp/