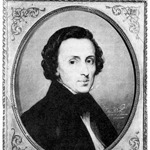 WARSAW, Poland (AP) — A collection of Frederic Chopin's letters telling of the Polish composer's daily life, from giving lessons to the hot chocolate he drank, has gone on display in Warsaw's Chopin museum more than six decades after it went missing.


The six letters written by Chopin to his parents and sisters back home in Warsaw in 1845-1848 are the centerpiece of an exhibit that opened Thursday. It will run for one month after which they will be made available to researchers.
The collection of 47 items also includes letters from the piano composer's Scottish pupil Jane Stirling to Chopin's sister, as well as other items, such as a ticket for a rehearsal concert on July 26, 1840.
The letters were written from Paris and Nohant, where Chopin used to spend summers and talk with friends about things ranging from his painful work on the Sonata in G minor to the chocolate he liked to drink.
Although the contents of the letters were known to researchers, the originals were believed to have been lost or destroyed during World War II.
"This is a great day for us. This is an invaluable collection that we have acquired," museum curator Alicja Knast told a news conference.
She said that until 1939 the collection was in the hands of Laura Ciechomska, a grandniece of Chopin's.
Word emerged in 2003 that the letters still existed. The museum alerted Polish emigre art dealer living in Mexico, Marek Keller, who decided to buy them and donate them to the museum.
Museum authorities refused to disclose the name of the collector who had them or the fate of the items since 1939, honoring the collector's request to remain anonymous. Knast said all the items were confirmed as authentic before they were bought for an undisclosed sum of money.
Chopin was born in Poland in 1810 to a French father and a Polish mother, and spent the first half of his life in Poland. During the second half he lived in France, where he won fame with his compositions, mostly for the piano, and his popular concerts.
He died in Paris in 1849.


Associated Press | March 25, 2011


Weblink: http://www.musicalamerica.com/
Photo credit: http://news-poland.com/