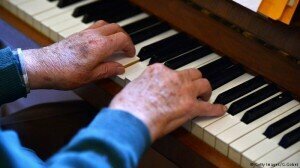 Researchers from Germany and Switzerland have teamed up to investigate the effects of music on the brains of elderly people. DW talked to the research leader about the challenges and possible outcomes of the study.

People who play an instrument will often have learned the basics in early childhood, but brain researchers from Hanover and Geneva want to show that music lessons can be valuable even later in life.
"This new study examines the effects of music on the quality of life of senior citizens. It aims to draw attention to the important role of well-being in old age and to support elderly people in trying new things in their lives again," said the musical neurophysiologist and research leader Eckart Altenmüller in an interview for DW. Full story.
Paula Rösler (Deutsche Welle) / December 31, 2017

Weblink : https://www.dw.com/
Photo credit : https://www.dw.com/