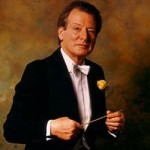 Neville Marriner puts down his cup and saucer and waves an invisible baton around the living room of his Kensington, London, home.


"We used to rehearse right here," says the world-famous conductor, 84, with a smile. "We'd move the furniture, kick out the cats and play 17th and 18th-century music just for fun. Back then we had no intention of doing any concerts at all."
Back then was 1958. As principal second violinist with the London Symphony Orchestra, Marriner had grown bored of playing the constant rounds of Beethoven, Tchaikovksy and Wagner demanded by that institution. So he founded a chamber orchestra, a sort of glorified string quartet, comprised of 13 stellar players who came together once or twice a week on a carpet (long since replaced) next to the same grandfather clock, under the same watchful ancestral portraits. Afterwards, they all went out for dinner.
"After a while our keyboard player John Churchill, whose proper job was looking after the organ at St Martin-in-the-Fields" – the famous steepled church in the northeast corner of Trafalgar Square – "proposed that we give a concert there on a Sunday. Most of us weren't keen. We were already playing concerts with the LSO and besides, we didn't think there'd be an audience."
Marriner's eyes sparkle. "John said, 'Oh come on, there will be people left over from the service and others will walk in off the street'. So we agreed," he adds. "And now look."
The then conductor-less Academy of St Martin-in-the-Fields gave its first performance in its namesake church in November, 1959. Fifty years on they are one of the world's leading chamber orchestras, critically praised as a benchmark for orchestras everywhere. With a line-up that now ranges from chamber group size to a symphony orchestra and a choir, their repertoire has expanded to include everything from baroque works and grand symphonies to 20th-century British music. The quality of their sound is evident on more than 500 recordings, many of them award-winning, many conducted by Marriner himself.
"Our first recordings were for an extraordinary Australian lady named Louise Hanson-Dyer, who had founded a music publishing company, the Decca imprint Editions de l'Oiseau, in Paris," says Marriner, who moved from the pit to the podium as the academy evolved. By the end of the 1970s the academy had become the best selling chamber group in recorded music's history. "Recording can be dismissive of the music. One of the tricks of the academy has always been the vitality of their performing in the studio; when I listen to some of those old recordings I get depressed because they often sound so much better than they do now."
A pivotal figure in the revival of modern interest in baroque and early classical music, Marriner was knighted in 1985 and has recently been awarded honours in France, Germany and Sweden. His reputation as a conductor – bright, dynamic, precise – grew both alongside and independently of the academy.
From 1969 to 1978 he was the first music director of the Los Angeles Chamber Orchestra; he has variously conducted leading American orchestras, England's Northern Sinfonietta and the Stuttgart Radio Symphony in Germany.
As compact, active and whip-smart as he ever was, Marriner continues to guest conduct operas and orchestras in the world's most prestigious venues. In two weeks, almost 50 years to the day after the academy played their first concert, he will be guest of honour at the Marriner Festival, conducting the Melbourne Chamber Orchestra in a series of concerts at the Melbourne Recital Centre.
"I could work every week of the year if I wanted to," he says. "Some places like Berlin and Vienna I would have given my right arm to work in when I was in my 30s and 40s. It's like what they say once you've played Carnegie Hall. Once you have done it, where is there to go? So yes, it's no longer the spectacular excitement it used to be."
These days it is Molly, Marriner's wife of 51 years and the mother of their children Susie, a writer, and Andrew, principal clarinettist with the London Symphony Orchestra (and special guest at the Marriner Festival), who tends to decide her husband's appointments. "If the invitation is from a beautiful place that has remarkable galleries and museums then we'll go; Molly spends her life walking around these places when I'm rehearsing." He sighs good-naturedly. "It's only places of choice now. Australia is a hell of a drag to get to – it knocks you out of commission for a month – but we love the prospect of being there."
The sprightly, likeable Molly has brought us in a tray of tea, coffee and biscuits. Having long accompanied her husband on his conducting stints they are still, it seems, inseparable. The couple met shortly after Marriner joined the LSO in 1956. The Lincoln-born son of a builder and amateur musician, he had studied at the Royal College and the Paris Conservatoire before being wounded during World War II and meeting English musicologist Thurston Dart in hospital. With Dart he formed a violin and harpsichord duo and early music group the Jacobean Ensemble before going on study conducting with Pierre Monteux in Hancock, Maine in the US.
His background as a violinist might have aided his timing, but what is it that makes a good conductor? Presumably it is more than standing there waving your arms around? "Ha! I remember letting (former British Prime Minister and music scholar) Edward Heath do that with an orchestra I was the musical director of. The newspapers loved it but he really was the worst conductor in the world. The musicians made me promise, never again.
"Once you get past giving an orchestra a metronomic beat you have to help them physically: react to the music. Show passion. Calm them down. To convince an orchestra nowadays is very tough," he continues. "You have a hundred gifted people in front of you. They know they are all getting 100 guineas each and the conductor is getting one thousand and they want something for that difference. One of the great virtues of having played in an orchestra," he says, "is that you do understand the frustrations involved."
Declared "a rare specimen in the music world: a maestro without enemies" by a leading British critic, Marriner has always delivered, always taken his responsibilities seriously. So seriously, in fact, that when the Academy of St Martin-in-the-Fields were rehearsing in situ for the opening week of the Sydney Opera House in 1973 the conductor boldly told a group of noisy individuals at the back of the hall to shoosh. "I yelled 'Will you please be quiet!"' He covers his face sheepishly. "Then I realised it was the Queen being shown around."
Australia has loomed large in Marriner's career. He has worked with the Australian Chamber Orchestra and the Australian String Quartet; he led the Minneapolis Orchestra on a seven-concert tour of the country in 1985. He is a patron of the Melbourne Chamber Orchestra (nee Australia Pro Arte), an outfit based on the academy model.
"Achieving a solo career for a musician is very difficult," says Marriner, who was chairman of the academy until 1992 and retains the title of life president. "This way they get to play with a small, intimate orchestra for some of the time while also being free to play elsewhere."
The Marriner Festival is the brainchild of William Hennessey, artistic director of the MCO and a member of the academy from 1978 to 1980. The two men forged a friendship over their shared admiration for the works of English composer Douglas Weiland, then a member of the Australian String Quartet and once again resident in Britain. Weiland's 2001 Clarinet Concerto – commissioned by Marriner and starring his son Andrew ("He's the famous one, really") – will receive its world premiere in Melbourne alongside works by Elgar and Mozart, Vaughan Williams and William Walton.
Does he think Walton liked being addressed as "Sir"? How much does becoming a knight of the realm affect other people's reactions? "It does make a difference to the way people deal with you," admits Marriner ruefully. "Sometimes it can spoil relationships. Other times it makes no difference."
"We had this one driver who drove our instruments all around the world for us. He used to call me Nev. He'd be like, 'Where do you want the double basses, Nev?' But when I was knighted he went absolutely quiet for about three months."
He pauses for a beat or two. "Then one day he suddenly went, 'Where do you want the double basses, S'Nev?"'
At this, Marriner throws back his head and laughs.
The Marriner Festival runs from November 15 to 19 at the Melbourne Recital Centre.

Jane Cornwell | November 02, 2009
Weblink: www.theaustralian.news.com.au/story/0,25197,26290409-16947,00.html
Photo credits: musicomh.com