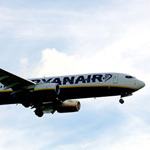 Musicians have set up a Facebook group and are threatening to boycott Ryanair over its policy of charging even small instruments that can fit easily into overhead lockers.


First it was the ludicrous plan to charge its passengers to use the toilets. Then it was the wheeze to create "standing-room only" seats to be sold at bargain-basement prices, while the last cost-cutting ploy – to axe co-pilots – not surprisingly incurred the wrath of its pilots.
But now the controversial low-cost carrier, Ryanair, is facing a fresh and very noisy backlash from an unlikely group – musicians – who are threatening to boycott the airline for "penalising" those who take instruments on board.
The Facebook group Musicians against Ryanair has attracted more than 13,500 members who are puzzled why, when smaller instruments fit perfectly into overhead lockers, they are being forced to buy an extra seat for a violin. Some airlines accept them as an addition to the hand-luggage allowance, but not Ryanair.
The Incorporated Society of Musicians (ISM) has added its voice to the din, today launching a petition in response to the recent spate of incidents involving airlines using inconsistent hand-luggage policies to target musicians. The online petition calls for the Department for Transport and airlines to implement a standard agreement for carrying musical instruments on planes. It wants all carriers to adopt the wording of the regulations used by British Airways to create the standard agreement allowing musicians to "carry a musical instrument as hand baggage if the item is guitar-sized or smaller".
The incident that has caused all the fuss involved 12-year old Francesca Rijks, who studies at Chetham's School of Music in Manchester. She was turned away at the boarding gate of a Ryanair flight returning to the UK from Germany because airline staff refused to let her violin on board as hand luggage, despite the fact her parents had been assured by the airline's customer service department that the instrument would be accepted.
Musicians who have to hawk around larger instruments are used to this practice. Cellist Julian Lloyd Webber has added his support to the music industry's petition, saying: "This indiscriminate victimisation of musicians has to stop. As a cellist I am used to being charged a full fare for my cello, even when the plane is half empty. But to expect a violinist to do the same – when their instrument can safely be stowed in an overhead locker – is just plain greedy."
So is Ryanair on the fiddle? The Incorporated Society of Musicians's chief executive, Deborah Annetts, says it is an additional financial pressure on many musicians (presumably not Lloyd Webber) who would struggle to afford the extra costs. She complains: "The lack of a fair and consistent approach by airlines means UK musicians are faced with a hand-luggage lottery. Increasingly, our musicians cannot afford to travel abroad to perform, whilst international musicians struggle to travel to the UK to play in festivals and performances.
"Their livelihood is threatened and the creative and cultural economy is being stifled. As cuts begin to impact on every government budget, is this unfair, irrational treatment of musicians really what we want?"
And it is not just musicians who are complaining about the extra seat wheeze. Disgruntled bloggers also reveal how Ryanair singles out those who are injured: one whose leg was in a cast for two months was told that he would have to pay for three seats to accommodate him.
Curiously, however, Ryanair does allow hikers to carry on their avalanche rescue packs: "An avalanche rescue pack with one nitrogen/air cylinder can be included in either cabin or checked baggage."
And further inconsistencies have come to light after the airline easyJet in effect prevented thousands of disabled people from flying on its planes, by refusing to allow most powered wheelchairs onboard. The airline refuses to carry in one piece wheelchairs that weigh more than 60kg without their batteries.
And excess baggage is clearly an expensive extra for the bulk of air passengers, whether it's the violin-playing kind or not. Travel deal website Expedia says it may have cost as much as £270m this summer. One in six travellers have admitted to paying excess baggage charges for their bulging suitcases, while one in 10 paid an average of £50 in excess baggage in the past 12 months.


Rebecca Smithers | September 14, 2010
Weblink: http://www.guardian.co.uk/