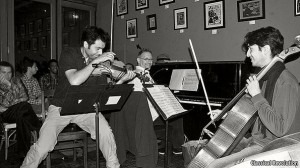 TETHERED to electronics, we forget that for centuries individuals were expected to read, write and perform for one another, in the flesh. Music enjoyed a particularly intimate history. Until the 17th century, secular music was played solely within one's home (hence: "chamber music").

Venues changed over time, but 20th-century improvements in recording technology dramatically altered music traditions. Why play the piano for family and friends when there are records, CDs and now-ubiquitous MP3s? Such advancements encourage old souls to wax poetic about bygone eras. But these changes in tastes and style are acutely felt by classical musicians. How do they make a living when younger generations are not only less interested in classical music but also less willing to pay for entertainment?
Some classical musicians are adapting. In 2006 San Francisco-based musicians founded Classical Revolution to encourage "chamber music for the people". Thirty international chapters now host casual concerts in bars and coffee shops, which both relaxes the classical music experience and builds a new fan base. Joshua Feltman, the head of a chapter in New York, recently began hosting open-mic nights, where groups who share musical repertoires take turns on stage. The challenge, he says, is finding ways to make "listeners feel involved in the experience."
While groups such as Classical Revolution attempt to inject classical music into contemporary consumption habits, others revive age-old traditions. Kimball Gallagher, a Juilliard-trained pianist, is using private concerts to encourage a new generation of music aficionados. It began during his time at Rice University in Texas. This was where he met an independent researcher named Jacob Deegan, who often hosts concerts in his Houston home to bring people together while "ensuring that cultural traditions flourish". For Mr Gallagher, this transformed how he saw home recitals. He "felt a much stronger bond with the audience" than he'd experienced on a stage, and the feeling was mutual.
These fêtes are more than Schuertiades, or Schubert-inspired gatherings in private homes. They also provide an opportunity for cultural communication, like a French salon. Mr Gallagher and several friends, including David Rosensweig, a consultant, now host a recurring event called Cocktails and Counterpoints to restore this tradition in New York. Attendance is limited and by invitation only. Although Mr Gallagher initially worried about attracting young professionals to classical music concerts, he discovered a winning formula in presenting a brief performance of music followed by open dialogue with featured musicians. He is delighted by the "richness of these conversations" and credits a specific ratio: the group consists of approximately 25 non-musicians and five musicians; everyone is asked to contribute a bottle of wine and meaningful questions, nothing more.
Which brings us to the pesky matter of economic sustainability. How do musicians earn their keep while cultivating new fans and experiences? This question has, of course, plagued artists through the ages. "Unless you are independently wealthy, someone has to pay for your services," says Stuart Isacoff, author of "A Natural History of the Piano". Though it caused him "terrible pains and toil," Mozart accepted that he had to teach and work with wealthy patrons to advance his career.
Mr Gallagher understands the value of courting supporters. He purchased his first piano by auctioning off keys, and is halfway through an international 88 Key Concert Tour that raises funds in a similar way. Hosts typically underwrite his expenses, inviting him to play in venues that range from Uma Thurman's New York apartment to Nicola Bulgari's Tuscan villa to the Afghanistan National Institute of Music in Kabul. His penchant for networking caused Edna Landau, a renowned artist manager at IMG, to remark that Mr Gallagher is "perhaps the most entrepreneurial individual" utilising home concerts.
Mr Gallagher is not alone in incorporating conversation and education into the private concert experience. Although he adheres to the more traditional ticketed event approach, Jeffrey Siegel has hosted Keyboard Conversations for decades. His solo concerts begin with commentary about his music. He joins the trend of musicians who add an educational component to their performances in order to reach wider audiences.
Quite a few classical musicians have had to become real entrepreneurs in order to ensure they can rely on a market for their work. Without flexibility and creativity, classical music will struggle to find the audiences necessary to sustain itself.


M.K. (The Economist) / March 30, 2012


Weblink : http://www.economist.com/
Photo credit : http://www.economist.com/