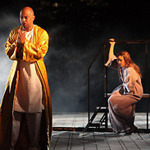 Few terms in the realms of musical composition and theater are as imprecise, let alone patronizing, as incidental music. The phrase has long been applied to music that provides atmosphere, accompanies an action or enhances the mood or moment in a play. The word incidental suggests that such music should call no attention to itself.


Yet since the 17th century when Purcell wrote ingenious music for English plays, notable composers have written music for the theater that was hardly incidental. Grieg composed nearly 90 minutes of music for Ibsen's "Peer Gynt." The original 1876 production lasted some five hours. Grieg later extracted two popular orchestral suites from the score. But those who know "In the Hall of the Mountain King" only from the suite would be stunned to hear the chilling original version, with includes a shrieking chorus and thunderous percussion.
Mendelssohn's beloved incidental music for Shakespeare's "Midsummer Night's Dream" is so elaborate that it was not hard for later composers to fashion the various pieces into an evening-length ballet score. American Ballet Theater recently performed Frederick Ashton's magical 1964 ballet "The Dream," using John Lanchbery's effective arrangement of Mendelssohn's music. On the other hand, many fine composers have embraced the deferential approach to writing incidental music while still showing that such scores can be arresting and sophisticated on their own terms. Two good examples can be heard in New York at the Public Theater's Shakespeare in the Park productions of "The Winter's Tale," with soft-spoken, precisely rendered incidental music by Tom Kitt, and "The Merchant of Venice," with an atmospheric, intricately textured score by Dan Moses Schreier.
Mr. Kitt is best known for his Tony Award-winning score for the rock musical "Next to Normal," which also brought the Pulitzer Prize in drama to Mr. Kitt and his collaborator Brian Yorkey, who wrote the book and lyrics. The songs are woven almost continuously into "Next to Normal," the story of how a woman's struggle with bipolar disorder affects her family. Although the songs basically adhere to generic rock and pop styles, the music teems below the surface with rich details, and the score abounds in intricate ensemble writing.
But in "The Winter's Tale" Mr. Kitt's acute ear and originality come through even more. His score is a triumph of the less-is-more approach to incidental music.
"The Winter's Tale" tells of Leontes, the king of Sicilia, who irrationally concludes that his wife, Hermione, has been unfaithful and borne a baby girl to his childhood friend Polixenes, the king of Bohemia. A wondrous mix of enchantment, comedy, mysticism and exotica, the play cries out for music to set the scenes and connect the threads. In a recent telephone interview Mr. Kitt, 36, who majored in economics at Columbia, recalled his first planning sessions with Michael Greif, the director of "The Winter's Tale" (and also of "Next to Normal").
"I was kind of surprised by Michael's vision for music in the production and by how much music he wanted," Mr. Kitt said. There were to be long stretches of underscoring, when music played in the background, as well as themes and songs that would recur, Mr. Kitt explained.
He wanted the music to be live, meaning nothing recorded. To keep it intimate (and the budget reasonable) he wrote the score for just four musicians: a violinist, a cellist, a percussionist and a conductor playing a digital keyboard synthesizer.
From the first strains, you hear isolated two-note intervals and softly piercing clusters played in haunting repetition. What comes through immediately is that the chords, riffs, fragments and themes have been chosen with precision.
"I wanted to pick the notes so that they counted," Mr. Kitt said. "I did not want to overpower the play, or make the music too dense."
The play's settings are ambiguous and sometimes nonsensical: one scene takes place in the deserts of Bohemia. Deserts in what is the modern-day Czech Republic? Mr. Kitt took this looseness as license to have fun. In the opening scenes in Sicilia, the music sounds almost Indian, with hints of ragas and cyclic riffs. But later, in Bohemia, the music has a rustic, dancing Eastern European character.
When the accused Hermione, standing trial, proclaims her innocence and invokes the judgment of Apollo, we hear an eerily beautiful extended episode. The music is anchored by a sustained pedal tone, with searching intervals floating above and bits of phrases that slowly coalesce into an insistent five-note theme.
The "Merchant of Venice" music, which is recorded, is comparably engrossing but of a different style entirely. Though Mr. Schreier has a sizable résumé of scores for the theater, he may be best known as an astute sound designer, especially for his work in recent years on productions of Stephen Sondheim musicals, which consistently sound less amplified and more natural than typical Broadway shows.
For "The Merchant of Venice," directed by Daniel Sullivan, Mr. Schreier's music is thick textured and lush, with multiple overlapping elements: choralelike chords, melodic bits, hazy clouds of harmonies. Yet every strand comes through with striking clarity, and nothing sounds overlayered.
When Mr. Schreier wants to shake up the audience and intensify a scene, the music becomes a din, with scrambling scales moving every which way, as in the music of Steve Reich, or a burst of chimes and metallic clanking. But when tenderness is called for, a simple melody on a consoling oboe or a wash of chords, like out-of-focus Debussy, is subtly heard.
Sometimes a play demands that incidental music be more pervasive and powerful, as with Mark Bennett's near-symphonic score for "The Coast of Utopia," which played at the Lincoln Center Theater in 2006-7. Because this nine-hour Tom Stoppard trilogy spanned decades of mid-19th-century Russian history, philosophy and culture, strong music was needed to bring cohesion to the narrative, which boldly jumped time periods and locales.
But it's Shakespeare who seems to have brought out the best in composers for the theater in recent years. Although Jeanine Tesori is best known for her scores to the musicals "Caroline, or Change" and "Shrek the Musical," her most enthralling work, for me, was her enchanting score for Nicholas Hytner's production of "Twelfth Night" at Lincoln Center more than a decade ago.
Ms. Tesori went to percussion stores all over New York asking to see the instruments that no one ever rented, the more exotic the better. She wound up writing an otherworldly score played on Tibetan temple bowls, gongs, wood blocks and hand drums, along with guitars, woodwinds, strings and more. But all the sounds were natural, nothing was amplified, and the music she wrote was rich with mystical modal harmonies and plaintive melodic lines.
My favorite backstage story about incidental music involves the composer Virgil Thomson, who wrote the score for the landmark 1936 production of "Macbeth" presented by the Negro Unit of the Federal Theater Project, with the young Orson Welles directing a black cast. Welles set the play on an island that could have been Haiti in the 19th century. The witches were voodoo priestesses. A troupe of authentic African drummers was recruited to play along with the pit orchestra. The lead drummer professed to be an actual witch doctor.
Thomson wanted real voodoo music for the voodoo scenes. But when the African musicians played some, he thought it sounded a little tame. He kept pressing them, asking, "Is this stuff really voodoo?" The African musicians assured him it was. Finally, under Thomson's grilling, they admitted it was not, that is was just some spells to ward off beriberi. They did not dare use the real thing since, naturally, it would have worked.
The scores to "The Winter's Tale" and "The Merchant of Venice" cast only metaphorical spells, of course. But composers who want a model of how to write effective incidental music should head over to the Delacorte Theater.


Anthony Tommasini | July 19, 2010
Weblink: http://www.nytimes.com/