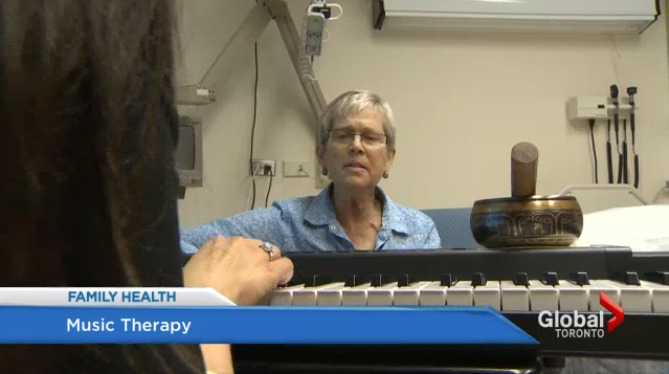 When Toos Reid was diagnosed with acute myeloid leukemia a year ago, she says she was forced to readjust to her life.

Each week brought visits to Toronto's Princess Margaret Hospital for check-ups, blood transfusions and heavy doses of medication. During one visit, Reid says she was playing around with a instrumental keyboard and she was asked if she would like to meet the music therapist.
After her first session, Reid says she noticed a difference.
"It really elevates my mood for sure and I really enjoy that about it," she says. "I mean, just singing and enjoying music with another person is so wonderful."
A large-scale research review from Montreal's McGill University suggests listening to music may be more effective than prescription drugs in reducing anxiety before surgery.
Neuroscientists Daniel Levitin and post-doctoral researcher Mona Lisa Chanda, reviewed 400 research papers in the neurochemistry of music.
Levitin says the review found music has an effect on neurochemical mechanisms including management of mood, stress, immunity and is also an aid to social bonding.
Fifteen of the studies reviewed suggested levels of a stress hormone called cortisol dropped after listening to relaxing music.
"If we learn more about the system, the interaction between music and the brain, we might be able to use music in situations where we had been using drugs," says Levitin.
Sarah Rose Black, a music therapy intern at Princess Margaret Hospital, believes her sessions have given Reid a venue to express herself through music, whether playing a guitar or singing.
"Sometimes as soon as they hear a song or as soon as they hear music, or someone's voice, it can trigger those emotions and open up a space for them to communicate," says Black.
According to Levitin's research review, music may cause neurons in the primitive part of the brain, called the brain steam, to sync with the beat. A slow beat leads to relaxation and a quicker beat increases focus and alertness.
"Music is I think, a universal way for people to relax, to de-stress," says Lisa Maitland, palliative care resource nurse at the Princess Margaret Hospital. "And I was happy just to know that there's an alternative therapy for patients to help them cope."
Levitin says the research review indicated that music increased both immunoglobulin A, an antibody that plays a critical role in immunity of the mucous system and natural killer cell counts, the cells that attack germs.
For some, music therapy helps in dealing with physical or emotional pain.
"Many patients actually find the music therapy sessions helpful because it does help them come to terms or make sense with their physical suffering on a more spiritual or emotional level," says Dr. Ernie Mak, palliative physician at Princess Margaret Hospital.
As Reid continues with her music therapy sessions, she says she is figuring out what the new normal is while battling leukemia.
"But once you realize that, and once you realize you can bring a little bit of joy to people (through singing), your roommate, or some people on the floor, then it's a good thing,"

Natalie van Rooy (Global News) / May 23, 2013

Weblink : http://globalnews.ca/
Photo credit : http://globalnews.ca/