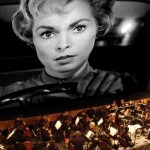 A PENSIVE Janet Leigh is behind the wheel of a car, casting furtive glances into her rear-view mirror, countryside whizzing past as she flees the city in Alfred Hitchcock's classic film Psycho.


Without music it's an unremarkable scene of a woman driving a car. But add Bernard Herrmann's urgent score, and the sense of anxiety and impending doom is palpable.
As John Goberman says: "Without the music, it's really a bore. With the music, it's an extraordinary adventure. Hitchcock was a master of suspense, but Herrmann was a master of accenting every nuance of suspense."
Goberman is the American producer who created the Symphonic Night at the Movies series, in which orchestras provide a live soundtrack to classic films on the big screen. In 2006 he presented The Wizard of Oz at the Sydney Opera House, with the Sydney Symphony playing the score.
Next week it's Psycho on the Opera House screen, with the 48-piece Sydney Lyric Orchestra playing Herrmann's score.
"In The Wizard of Oz there's a huge amount of music you didn't know was there. In Psycho it's a different effect," Goberman says. "The frame the orchestra provides for the picture makes it an extraordinary experience. The music is the driving force."
Aside from Herrmann using only string instruments for Psycho, Goberman says the sound he invented was unique. "It's the most inventive musical score you could imagine. The rhythmic drive actually makes it sound like a big percussion section."
The infamous shower scene, with its shrieking, thrusting violins, originally had no musical accompaniment. But after hearing what Herrmann had composed and recorded, Hitchcock was swayed.
Herrmann worked on many of Hitchcock's films, including Vertigo, The Trouble With Harry and The Birds, before a falling out over the music for Torn Curtain.
The Opera House performance will be a change of pace for the concert master Adrian Keating, who is more familiar with classical scores as the lead violin in the Australian Opera and Ballet Orchestra.
He has assembled players from the Sydney Symphony, Australian Chamber Orchestra, Opera and Ballet Orchestra and freelancers.
"It's so exciting to be doing something so unusual. It's all strings for one and, secondly, the effects he's written for them to play are quite unusual. They're angular sounds, with cutting, rhythmic noises that we have to make as a string section to get the sounds across," Keating says.
"The music itself is angular, with cyclic rhythms that repeat in phrases. If we were to play the entire score as a concert, you'd find it a bit tedious after a while. In the film, though, it's creating this anxiety, this obsessive compulsive idea, and reflecting Norman Bates's madness."
Goberman says there are two scenes where the music plays a key role: the shower scene and when the skeleton of Norman Bates's mother is finally revealed.
"It's so brilliantly scary. Then when Anthony Perkins is in the police station and does this whole reprise as his mother, the music really makes you jump."

Clare Morgan | January 2, 2010
Weblink: www.smh.com.au/news/entertainment/music/music-provides-the-driving-force-behind-the-master-of-suspensesfilms/2010/01/01/1261982389772.html