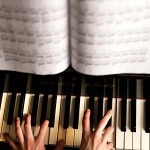 Let's face it: Many of us looking to sharpen our intellectual edges have already passed the age when becoming a prodigy is an option. We missed the opportunity to start clarinet lessons at 5. We lacked the discipline to practice for hours on end. We were told we couldn't carry a tune in a bucket.


It's never too late, say researchers.
Just as second languages are more easily learned young, neuroscientists point to periods of heightened sensitivity — particularly before the age of 8 or 9 — when minds are more readily shaped by musical instruction.
With age, the "plasticity" that allows experience to mold the brain so easily declines. But it doesn't disappear. At any age, learning a challenging new set of skills such as instrumental music is likely to return cognitive dividends, says Harvard University neurologist Gottfried Schlaug. And for adults, he added, the prospect of making music can be a far more effective motivator to practice than nagging parents are to younger musicians.
"Music is sort of the perfect activity that people can engage in from young to older years. It affects how the brain develops and affects how the brain changes in structure" at any age, Schlaug says.
For the mature brain, even listening to beloved music may have what scientists call a "neuroprotective" effect.
Dr. Antonio Damasio, director of USC's Brain and Creativity Institute, is an expert on emotion and a committed musicophile. Even if music did little more than lift our spirits, he says, it would be a powerful force in maintaining physical and mental health. The pleasure that results from listening to music we love stimulates the release of neural growth factors that promote the vigor, growth and replacement of brain cells.
In that way, Damasio says, just the simple act of absorbing music may help keep older minds healthy, active and resilient against injury and illness.

Melissa Healy | March 1, 2010
Weblink: www.latimes.com/features/health/la-he-0301-brain-music-adults-20100301,0,2032734.story