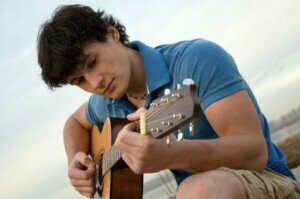 Does music play a role in sexual selection?

Famous musicians like Mick Jagger, Justin Timberlake, and Kanye West seem to have no trouble attracting women. But does an interest in music give any advantage to guys who rock out in garages and basements rather than stadiums? An elegantly simple experiment done in France suggests that it does.
First, researchers recruited a good-looking young man. (To do this they showed photographs of 14 male volunteers to a number of young women and asked them to rate each man's attractiveness on a scale of 1 to 10. The man with the highest score became their confederate in the experiment.) Full story.
Jeanette Bicknell (Psychology Today) / September 30, 2013

Weblink : https://www.psychologytoday.com/
Photo credit : http://3.bp.blogspot.com/