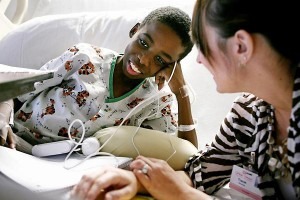 MUSIC not only nourishes the soul, it reduces the anxiety cancer patients feel, according to a major international review of the effectiveness of music therapy.

A touch of Mozart, Puccini or even Andrew Lloyd Webber might also reduce pain and improve the quality of life for people with cancer, the authors say in The Cochrane Library, which publishes evaluations of the evidence for health and medical procedures.
Patricia Sidebottom, 72, opts for Lloyd Webber's Phantom of the Opera, as performed by music therapist and researcher Clare O'Callaghan. "She plays so beautifully. It takes you away from it all," said Mrs Sidebottom, a patient at Melbourne's Peter MacCallum Cancer Centre.
Dr O'Callaghan is not surprised the Cochrane team – led by Joke Bradt of Drexel University in Philadelphia – found music interventions improved psychological and physical outcomes for patients.
"It's important for health professionals to encourage people living with cancer, and their caregivers, to consider music in their lives as a form of self-care."
Along with colleagues, including Denise Grocke of Melbourne University, Professor Bradt analysed evidence from 1891 patients taking part in 30 clinical trials.
"Music interventions provided by trained music therapists as well as listening to pre-recorded music both have shown positive outcomes in this review," Professor Bradt said.
"But at this time there's not enough evidence to determine if one intervention is more effective than the other."
Cancer Council Australia chief executive Ian Olver agreed technical difficulties made it difficult to rank one intervention over the other, but he welcomed the rigorous assessment. "It's important to know if music therapy is doing what you expect it to do," he said.


Leigh Dayton, Science writer (The Australian) / August 11, 2011


Weblink : http://www.theaustralian.com.au/
Photo credit : http://www.germansabogal.com/