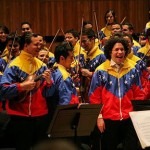 The famous Venezuelan musicians are growing long in the tooth – and there's a new generation waiting in the wings
The Simón Bolívar Youth Orchestra is youthful no longer – as I was saying last week in my review of their concert with Gustavo Dudamel at the Lucerne Easter festival.


Their blurb says the musicians are between 17 and 25 years old, but I would guess the average age of these brilliant Venezuelans is somewhere in the late 20s. Mere pedantry? Not really. The Bolívars are at a crossroads: many of the players, who have grown up with their conductor Dudamel, are now making their living as teachers in El Sistema. But the question for the future is this: how would the orchestra fare as a grownup professional orchestra, measured not just against young musicians, but the best in the world?
The Bolívars now have an identifiable style of playing – incredibly intense, disciplined, brutally loud – that suits a narrow band of late-Romantic and early-20th-century repertory. But how would they fare with the wide range of music expected of an international orchestra, from classics such as Mozart and Haydn to contemporary music such as Karlheinz Stockhausen and György Kurtág, of which they don't seem to have much experience?
Whatever happens to the orchestra in the future, British and European audiences will have the chance to hear another Venezuelan troupe this autumn: the Teresa Carreño Youth Orchestra. Aimed at El Sistema players aged between 14 and 19, this ensemble fills the gaps left behind by the ageing Bolívars. That makes the Carreño orchestra a direct competitor for the National Youth Orchestra of Great Britain.
The Carreños will be conducted at London's Southbank Centre in October by Christian Vásquez, 25, one of several young conductors produced by El Sistema and successor to Dudamel. Another 25-year-old, Diego Matheuz, is making waves around the world; and at a rehearsal in Lucerne I saw a 17-year-old maestro pick up the baton from Dudamel and launch himself – with terrifying enthusiasm, energy and confidence – into the final few minutes of Tchaikovsky's Francesca da Rimini – conducting from memory, too. You can hear the Carreños on their own YouTube channel, most recently in Tchaikovsky's Fourth Symphony. They're almost as impressive as their twentysomething colleagues. The Simón Bolívar players should watch their backs – the next generation of Venezuelan musicians may yet best them.
Tom Service | March 30, 2010
Weblink:
guardian.co.uk
Photo credits:
telegraph.co.uk