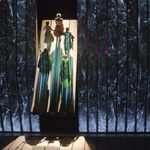 A few hours before the gala start to a new season, Metropolitan Opera general manager Peter Gelb was anything but boastful. This, despite successfully opening up his company to the world.


Five years ago, cautious critics shook their heads at Gelb's project to beam live opera performances to movie theatres. But, as the Met continues to unfurl its new electronic umbrella — high-definition video broadcasts, live and satellite radio, video-on-demand and DVD sales — the naysayers have all but vanished.
Last season, the company's nine live opera broadcasts sold 2.4 million tickets in four dozen countries. Once everyone was paid, the Met still had $8 million (all figures U.S.) left over to help cover a deficit brought on by tough economic times at home.
Full-price ticket sales at the opera house are running at 85 per cent of capacity, compared to 76 per cent four years earlier, according to the company. And Gelb is doing everything he can to reach out even more.
Take Monday's first taste of Canadian Robert Lepage's technologically charged new staging of Richard Wagner's Ring Cycle, in Das Rheingold. Besides a full house of well-heeled patrons, more people saw the opera for free — 3,000-plus in the plaza right outside New York City's Lincoln Center and another 2,000 or so in Times Square.
"You can't run an opera house and be cocky," says Gelb. "It's a bad combination."
Although it would be easy for him to bask in the success of his marketing initiatives, for him, it's all in a day's work.
"The economic challenges are enormous. Ticket sales are only a percentage of our needs," he says, flatly. "The high-definition broadcasts are a subtle and not so subtle way to go beyond our usual revenue stream."
Profile is everything. Since 2006, 7,000 new donors have signed up to contribute to the company's $300 million-plus budget.
Gelb says that the broadcasts have also helped the Met artistically.
"Twenty or 30 years ago, everyone's ambition was to sing at the major houses and have a recording contract at a major label," Gelb explains. "Now, when a Saturday matinée HD transmission is seen by 250,000 people, that's a major drawing card."
This season's roster of 12 live Met broadcasts, up from nine last year, resume on Oct. 9, with Das Rheingold. In Canada, Cineplex and its affiliates are offering them in 100 movie theatres across the country.
"Five years ago, when we started in 24 theatres, we never could have imagined how successful this would be," says Pat Marshall, vice-president of communications for Cineplex Entertainment.
She says that in Canada, opera at the movies has been most successful at Toronto's Sheppard Grande cinema, where the HD broadcasts now appear on four screens. "We could sell out even more, but we can't have so many folks going to the bathroom at the same time," Marshall adds.
Two years ago, Cineplex added encore broadcasts on off Saturdays. This year, certain theatres are getting encore broadcasts on Monday nights.
Despite this kind of demand, Gelb speaks modestly of his plans for the next five years. "I'm continuing to keep my fingers crossed," he says. "The only thing we can do is play the odds by bringing in great directors and singers, tinker with the repertoire and introduce new works."
Technology is not an end, but a means. "I hope it works by making good opera."


John Terauds | September 27, 2010
Weblink: http://www.thestar.com